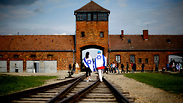 Auschwitz death camp
Photo: AP
Polish law criminalizing some Holocaust speech takes effect
Israeli and Polish delegations meet in Israel on same day to discuss controversial law outlawing blaming of Poland as a nation for Holocaust crimes committed by Nazi Germany; Polish rep: 'We're ready to clarify whatever needs clarifying'; Israelis express concern over infringements on freedom of speech and research on Holocaust.
A Polish law that makes it a crime to falsely accuse the Polish nation of crimes that were committed by Nazi Germany took effect on Thursday, part of a wider effort by the nationalist authorities to harness history to defend the country's honor and pride.

For years Polish officials have struggled to fight phrases like "Polish death camps" that are sometimes used abroad to refer to Auschwitz and other death camps that Nazi Germany built and operated on occupied Polish territory during World War II.

Some Poles fear that as the war grows more distant, new generations will mistakenly come to believe that Poles were the perpetrators of the Holocaust.

Deputy Foreign Minister Bartosz Cichocki and Director-General of the Foreign Affairs Ministry Yuval Rotem (צילום : עופר מאיר)

The law, however, has sparked a crisis with Israel, where Holocaust survivors and officials fear its true aim is to repress research and debate about Poles who killed Jews during the war.

Polish and Israeli representatives were in Jerusalem Thursday, holding a first working meeting toward resolving a standoff over the law.

The Polish delegation was headed by Deputy Foreign Minister Bartosz Cichocki while the Israeli team was headed by the Director-General of the Foreign Affairs Ministry Yuval Rotem.

"We are committed to join our efforts with the Israeli side to fight any manifestation of anti-Semitism or national stereotyping," Cichicki said ahead of the meeting in a press conference in Israel.

"We are committed to join our efforts to promote truth about the Holocaust and the Polish Jewish centuries-old relationship. We are here, open and ready to answer all the questions and clarify whatever is left to be clarified…"

Speaking before him, Rotem said that Israel sought to preserve the freedom of research and speech on the Holocaust in Poland, adding that his country was concerned about the spike in expressions of anti-Semitism.

"It is no secret that the issue of the Polish legislation with regard to the Holocaust is a matter of concern to Israel and the Jewish people worldwide. We must make sure that historical truth is preserved and there be no restriction on the freedom of research and speech..." Rotem said.

There was skepticism over what the talks might achieve given that the law is already taking effect. The head of Poland's largest opposition party, Grzegorz Schetyna, said Thursday that he saw the Polish government's gesture as "not serious," and said "the trip to Israel makes no sense."

Poland's president signed the law last month but also sent it to the constitutional court for review. Polish officials have said no criminal charges will be brought until the court has made its ruling, expected in several weeks.

But prosecutors are already looking for cases where Poland is defamed over its wartime activities.

Critics of the law argue that it is so broad and vaguely worded that it could be abused, even in battles against the political opposition. They note a section that criminalizes falsely attributing to the Polish nation "crimes against peace, crimes against humanity or war crimes."

Already on Thursday, a prominent Jewish journalist, Konstanty Gebert, challenged prosecutors with an article in the Gazeta Wyborcza daily which he said "may constitute a crime" under the law.

In his piece, Gebert wrote that "many members of the Polish nation bear co-responsibility for some Nazi crimes committed by the Third Reich," referring to the wartime massacres of Jews by their Polish neighbors in villages like Jedwabne in 1941. He also wrote that "the Polish state committed a crime against peace" when it took part in the Soviet invasion of Czechoslovakia in 1968, among other examples.

The law has also been criticized by the United States, which fears it could stifle free expression and academic research, and has warned Poland that to go through with it could hurt Poland's strategic relationships with both the US and Israel.

Recognizing the concern about the law in the United States, the government dispatched its foreign ministry's undersecretary of state, Marek Magierowski, to Washington this week to meet administration officials, lawmakers and Jewish groups to try to allay their fears.

Magierowski said Wednesday that Poland would never "whitewash" its history and the fact that some Poles did commit "ignoble acts" during World War II. But, he said the law gave the government a means to fight back when the country is accused of complicity in the Holocaust.

Adi Rozenberg and Itamar Eichner contributed to this report.