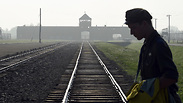 Auschwitz concentration camp
Photo: AP
A Polish delegation headed by Deputy Foreign Minister Bartosz Cichocki will arrive in Israel Wednesday to attempt to reach an understanding regarding the wording of the controversial Polish Holocaust Law which has sparked a diplomatic crisis between the two countries.

The delegation will meet with a team headed by the Director-General of the Foreign Affairs Ministry Yuval Rotem on Thursday.

Both teams will be composed of notable historians, journalists, jurists and legislators. The Foreign Ministry stated that "the goal of the dialogue is to preserve the historical truth and prevent harm to the freedom of research and expression."

The law, which imposes jail terms for suggesting Poland was complicit in the Holocaust, is currently set to take effect on March 1st, but Warsaw has announced that it will not be enforced until the matter is smoothed out with Israel, which described the new legislation as Polish attempts to shirk responsibility for their country's role in the Nazis' Jewish extermination program.

Prime Minister Benjamin Netanyahu instructed the Israeli Foreign Ministry to express its reservations about the law, and to arrive at an understanding before the law is implemented.

Polish Foreign Minister Zbigniew Ziobro, who also serves as the country's state prosecutor, was interviewed on Friday by the Polish news agency PAP and indicated that the law will not be implemented at this stage, despite being ratified, until the Constitutional Court makes a ruling.

The words of the justice minister and the state attorney are binding on the judicial system.

Ziobro sought to highlight during the interview that the law does not prohibit references to crimes committed by individual Poles and groups and added that it will not apply to Holocaust survivors, journalists or academics.

Israel's Ambassador to Poland Anna Azari met earlier this month with Ziobro where the two agreed to remove barriers preventing delegations from the two sides meeting to discuss the matter.

"This is a significant achievement that came about after continued discussions. We will continue with our dialogue in order to reach an understanding on the matter," Rotem said following the meeting in an official statement by the Foreign Affairs Ministry.