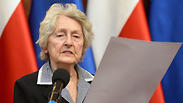 Anna Stupnicka-Bando
Photo: AFP
Polish Holocaust rescuers call for Polish-Israeli dialogue
50 Poles, the last survivors of over 6,700 who have been recognized as Righteous Among the Nations, appeal to Polish and Israeli governments in open letter, urging return to path of 'dialogue and reconciliation' amid diplomatic crisis caused by Polish Holocaust law.
WARSAW - The last surviving Christian Poles who helped Jews during the Holocaust appealed this week to Polish and Israeli authorities to return to a path of "dialogue and reconciliation" amid a diplomatic crisis and a surge of anti-Semitism sparked by a new Polish law that criminalizes some forms of Holocaust speech.

They made their appeal in an open letter which one of them read out to Polish Prime Minister Mateusz Morawiecki during a ceremony in Warsaw on Monday attended by six elderly rescuers, most of whom were teenagers who helped their parents shelter Jews during World War II.

The letter, addressed to the Polish and Israeli governments and parliaments, was signed by 50 Poles who describe themselves as the last survivors of the more than 6,700 Poles who have been recognized by Israel's Yad Vashem as "Righteous Among the Nations"—gentiles who risked their own lives to hide Jews from the occupying Nazi German forces.

They wrote that they oppose divisions between Poles and Jews and seek a "future based on friendship, solidarity and truth."

Morawiecki thanked them for the letter and paid tribute to them for helping Jews during World War II. He told them they had "served humanity and Poland ... saving our common brothers during the times of the second apocalypse."

The legislation criminalizes falsely attributing the Holocaust crimes of Nazi Germany to Poland. The measure has angered Holocaust survivors and officials in Israel, where it is seen as an attempt to whitewash the actions of Poles who killed Jews during World War II.

Polish officials insist the law won't be used against anyone who speaks the truth, only those who try to defame Poland with lies.

Bartosz Cichocki, a deputy foreign minister, said Monday that "the fears expressed by Israel and international opinion" are "completely unfounded."

There has been a resurgence of openly anti-Semitic comments in Polish public life amid the diplomatic crisis, sometimes expressed by elected officials or carried by public media. Leaders in Poland's Jewish community have called it the worst anti-Semitism in Poland in decades and said it has created fears among many members.

Some Jewish officials and groups have also made anti-Polish comments, with the most controversial a video released last week by a US-based philanthropic organization, the Ruderman Family Foundation, which shows people using the historically inaccurate term "Polish Holocaust" in a provocative defiance of the law.

The foundation withdrew that video amid outrage by Poles and Jewish organizations in Poland and elsewhere, which said using the term was wrong and unfair and exacerbated an already difficult situation.

Also Monday, Ronald Lauder, the president of the World Jewish Congress, issued an open letter in The New York Times in which he said the legislation "has created a firestorm of ill will" and urged Polish officials to resume dialogue with Jewish representatives.

"This entire controversy must now be dialed back, and I would like to see Polish and Jewish leaders sit down now and get back to the business of reconciliation and progress," Lauder wrote.