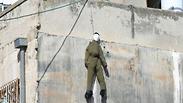 Purim Mea Shearim
Photo: Chaim Goldberg
3 effigies of Haredi soldiers hanged in Mea Shearim
Haredi extremists hang an effigy of an ultra-Orthodox IDF soldier in the Jerusalem neighborhood. After police removed the offensive dummy, two more were hung and then removed again; Lieberman: 'As Defense Minister I protect them, but as citizen I fight them politically.'
An effigy of a Haredi IDF Paratrooper was hung from a rooftop in the Jerusalem neighborhood of Mea Shearim on Friday. After police removed the offensive effigy, two more were hung, and have also since been removed. Police are searching for those responsible.

"We will not allow any incident that denigrates those serving the country and we'll act adamantly and with every mean at our disposal to locate those who have transgressed," the police said.

Hanging an effigy of Haman, the antagonist of the Purim story, has become an annual event for certain Haredi factions.

Soldier dummy hanged in Jerusalem (צילום: דוברות המשטרה)

In the last two years, extremists have hanged a figure dressed as an ultra-Orthodox soldier, which in their eyes represents the current manifestation of the evil Haman.

Police say that the dummy was soaked in flammable liquid, and it seems the plan was to ignite it later in the day.

Last year, the same thing happened. When police came to remove the hanging figure, they were greeted by a mob and clashes broke out. Police needed a crane to remove the effigy.

This year, its removal was carried out without incident. Police said, "We will not allow anything that involves harm to uniformed personnel, and we will use all our resources to track down those responsible."

Defense Minister Avigdor Lieberman wrote on Twitter: "The sight of the soldier's hanging doll in Mea Shearim is shocking. My job as defense minister is to defend such instigators as well. My role as a citizen is to fight them politically. The role of the authorities is to put them behind bars. I expects the heads of the ultra-Orthodox parties to condemn the act."