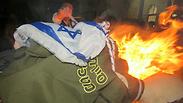 Effigy of IDF soldier set ablaze
Photo: Chaim Goldberg
A resident of Jerusalem's ultra-Orthodox neighborhood Mea Shearim was arrested Sunday on suspicion he set fire to an effigy of an IDF soldier during Lag B'Omer, about four and a half months ago.

The suspect handed himself into police after an arrest warrant was issued against him. The Jerusalem Magistrate's Court extended his remand until Wednesday.

The police said that since the incident, "an intensive investigation has been ongoing both covertly and overtly," which led to the arrest warrant against the suspect.

IDF effigies, as well as Israeli flags, were set on fire at Lag B'Omer bonfires in Mea Shearim by radical ultra-Orthodox as part of their fight against the IDF draft law.

Video: Haim Goldberg

It is an annual "tradition" in these extremist circles to burn an effigy of the ultra-Orthodox community's current enemy. In the past, effigies of the late MK Yossi Sarid and of Yesh Atid leader MK Yair Lapid were burned, among others.

Two months before the burning of the IDF soldier's effigy, a similar doll was subject to a hanging in the Jerusalem neighborhood.