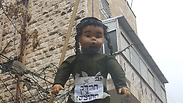 Effigy of hanged soldier
Photo: Israel Police
Several effigies of soldiers being hanged were discovered Monday morning in the ultra-Orthodox neighborhood of Mea Shearim in Jerusalem. A sign was also attached to one of the dangling effigies demanding that Orthodox IDF soldiers leave the neighborhood.

The dummies were removed by police and turned over to the forensic analysis department.

Police have asked the State Attorney to open an investigation for incitement into the incident.

"Police are working hard to handle this issue, including by focused information gathering on the phenomenon of incitement against those who choose to serve (in the IDF) and by conducting investigations in order to identify suspects and bring them to justice. The police will take a hard line in investigating and prosecuting those involved in this incident," read a police statement.

During police attempts to remove the dummies, two Haredi demonstrators were arrested for attempting to prevent them from doing so.

Pictures of the effigies were taken in an enclave of radical, anti-Zionist agitators and are indicative of increased levels of animosity against ultra-Orthodox IDF soldiers.

Last month, the Jerusalem District Attorney's Office issued indictments against nine ultra-Orthodox protestors who took part in violent demonstrations against the arrest of a fellow co-religionist who attempted to avoid mandatory enlistment. The protests were incited and led by Rabbi Shmuel Auerbach.

Minister of Public Security Gilad Erdan addressed the Haredi riots against military service and said, "I have instructed the police to do everything to bring the outlaws to justice and put them behind bars. Whoever hurts our soldiers must pay a heavy price."