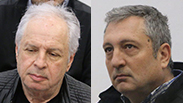 Shaul Elovitch (L) and Nir Hefetz
Photo: Motti Kimchi
Bezeq majority shareholder Shaul Elovitch and former Netanyahu family media adviser Nir Hefetz—two suspects in a major corruption probe involving Prime Minister Benjamin Netanyahu and his wife Sara—were released by police to house arrest Sunday under restrictive conditions.

Elovitch was released to house arrest for ten days and is forbidden from entering any Bezeq offices for 45 days. He will also not be allowed to leave Israel for half a year and has been forbidden from establishing any contact whatsoever with other people involved in the case for three months.

Hefetz was released to house arrests and placed under identical conditions. However, Hefetz is forbidden from entering government offices for 45 days, rather than Bezeq offices.

An appeal filed by the defense attorneys on the behalf of the pair, who are prime suspects in the a corruption investigation known as Case 4000, was rejected last Tuesday, with the judge determining that they would be held in remand as originally ruled until Sunday, despite the surfacing of improper legal conduct over their detention.

The defense teams for both suspects based their claims on an exchange of texts between the judge who presided over remand extensions, Ronit Poznanski-Katz, and an attorney representing the Israel Securities Authority (ISA), Eran Shacham-Shavit, in which the two appear to be coordinating positions about the detainments of the suspects.

The case involves suspicions that Elovitch and Prime Minister Benjamin Netanyahu had a quid pro quo relationship in which Bezeq enjoyed regulatory benefits in return for favorable coverage of the Netanyahu family on Walla! News, which is owned by the telecommunications giant.

Having recently secured suspended Communications Ministry Director-General Shlomo Filber, who for a time was Netanyahu's right-hand man, as a state's witness, investigators looked into whether Elovitch received eccess benefits of billions of shekels when Netanyahu served as minister of communications, in return for favorable coverage.