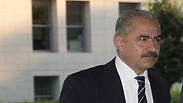 Mohammed Ishtayeh
Photo: AP
A senior Palestinian official has objected to President Donald Trump's assertion that the Palestinians have walked away from peace negotiations.

Mohammed Ishtayeh, a top adviser to President Mahmoud Abbas, says the Trump administration has pushed the Palestinians away from any peace process by taking a series of steps in favor of Israel.

"When ... President Trump says the Palestinians are running away from the negotiating table, which negotiating table?" Ishtayeh asked foreign journalists. "Since he came to power, there have been no negotiations whatsoever."

Ishtayeh criticized the US decision to recognize Jerusalem as Israel's capital and to move its embassy there in May, as well as US cuts in funding to the UN agency for Palestinian refugees.

He called for US "confidence-building steps" and an internationally sponsored peace process.

Ishtayeh's comments came in response to Trump's remarks at the White House during a meeting on Monday with Prime Minister Benjamin Netanyahu. Trump said he was also hopeful that "the Palestinians, I think, want to come back to the table. If they don't, you don't have peace. That's a possibility also. I'm not saying it's going to happen."

Since Trump recognized Jerusalem as Israel's capital, the US fell out of favor with the Palestinian Authority, who claimed that Washington no longer represented a fair arbitrator in the peace negotiation.

"The United States are no longer an honest mediator in the peace process, we will not accept any plan put forward by the United States because of this partisan spirit," said Abbas, speaking through a translator at a joint news briefing in Paris with French President Emmanuel Macron last December.