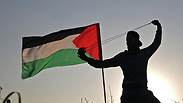 Palestinian protester near Gaza border
Photo: EPA
Palestinians prepare mass demonstrations along Gaza border
Israel girds for marches planned by Hamas as the terror organization urges Gazans to protest along the border in the coming weeks leading to the Jewish state's 70th Independence Day; marches seen by Israel as a risky gambit meant to shore up Hamas' shaky rule in the strip.
Gaza's embattled Hamas rulers are imploring people to march along the border with Israel in the coming weeks in a risky gambit meant to shore up their shaky rule, but with potentially deadly consequences.

Beginning Friday, Hamas hopes it can mobilize large crowds to set up tent camps near the border. It plans a series of demonstrations culminating with a march to the border fence on May 15, the anniversary of Israel's establishment, known to Palestinians as "the Nakba," or catastrophe.


The group aims to mobilize hundreds of thousands of people for the effort, though it hasn't been able to get such turnouts at past rallies, and the trend does not seem to be changing.

While the organizers of the march receive relatively extensive media coverage in Gaza and even larger media coverage in Israel, they do not seem to be generating much support for the march in the strip. For example, the official Facebook page of the march has less than 7,000 followers, most of whom are not residents of the strip. This is a negligible number compared to the coverage the march receives.

Speaking to Ynet reporters, some residents in Gaza called the marches a failed campaign, noting its organizers hope it will gain greater momentum once it begins.

Nonetheless, a jittery Israel is closely watching and vowing a tough response if the border is breached.

"When we march to the border, the organizers will decide then what to do," said Ismail Radwan, a Hamas official. Warning Israel against targeting the protesters, he said "the occupation should not commit any stupidity in confronting the Palestinian crowds."

Hamas says the demonstration is meant to draw attention to the plight of hundreds of thousands of Gazans whose relatives fled or were expelled from their homes in what is now Israel during the 1948 war surrounding Israel's creation.

But the first-of-its-kind protest also comes at a low point for the Islamic militant group and the 2 million residents of Gaza, where conditions have deteriorated since Hamas seized control of the territory from the internationally-backed Palestinian Authority in 2007.

An Israeli-Egyptian blockade, along with three wars with Israel and a series of sanctions by Palestinian President Mahmoud Abbas, have left Gaza's economy in tatters. Unemployment is well over 40 percent, tap water is undrinkable and Gazans receive just a few hours of electricity a day.

An Egyptian-led attempt to broker a reconciliation deal between Hamas and Abbas' Fatah movement took a major downturn earlier this month after a bombing targeted a convoy carrying Abbas' prime minister and security chief shortly after they entered Gaza. Abbas has blamed Hamas and threatened more financial pressure, such as cutting civil servant salaries or fuel purchases, to force the group to cede control.

"Hamas has realized it's besieged from three sides; Israel, Egypt and the Palestinian Authority," said Mkhaimar Abusada, political science professor at Gaza's al-Azhar University. "It feels the crisis is suffocating."

He said that for Hamas, the protests can divert attention from their domestic woes while avoiding renewed war with Israel. "They think busying Israel with this issue may put it under pressure," he said.

As Gaza's woes have mounted, Hamas' popularity has plummeted, and it remains unclear whether the group will be able to mobilize the crowds it envisions. Still, a combination of social pressure and curiosity in a territory with few options for recreation could help attract people.



On Tuesday, bulldozers were busy leveling the five camp locations from north to south. Trucks unloaded portable toilet stalls, and the Palestinian Scholars Union, which represents Islamic clerics, declared participation in the protests a religious obligation.

The demonstrations will begin after the Muslim noon prayer on Friday. Buses will carry people from all over Gaza to the five tent camps, situated hundreds of meters from the border fence.

Hamas and Hamas-allied organizers of the "Great Return March" say the sit-in will remain peaceful through May. But the ultimate plan is to move to the border in mid-May.

Organizers say they are trying to realize the "right of return," a Palestinian demand that descendants of refugees who lost their homes in 1948 should be able to return to lost family properties in what is now Israel.

Israel opposes any large-scale return of refugees, saying it would destroy the country's Jewish character. The fate of refugees and their descendants has been a core issue in past rounds of peace talks.

Israeli Cabinet Minister Yoav Galant, a retired general and member of Prime Minister Benjamin Netanyahu's inner Security Cabinet, said that Israel had set clear red lines.

"Hamas is in distress," he said. "They are using in a cruel and cynical way their own population in order to hurt them and to hurt Israel."

He said the military was well-prepared to prevent any infiltrations. "We will try to use the minimum force that is needed in order to avoid Palestinians wounded and casualties. But the red line is very clear. They stay on the Gazan side and we stay in Israel."

Violent skirmishes are expected even before May 15. Clashes have erupted along the border every Friday since December 6, when President Donald Trump recognized Jerusalem as Israel's capital and announced plans to move the US Embassy from Tel Aviv to the capital.

Additionally, while the spotlight is rightly directed at the Gaza Strip, Land Day demonstrations are also planned to take place in the West Bank and in east Jerusalem.

As in recent protests, demonstrators are expected to congregate near Ramallah, Hebron, Nablus and other Palestinian towns and villages. There, too, serious confrontations with Israeli security forces may lead to casualties.

While both Land Day and Nakba Day could also spark large protests that could devolve into violent confrontations with Israeli forces, they are not the only commemorative days observed by Palestinians in the coming weeks which could prove troublesome for the state.

The Palestinian Prisoners' Day, in which Palestinians express solidarity with Palestinian prisoners incarcerated in Israel and their families, is commemorated annually on April 17, the date in which the first Palestinian security prisoner was released in a prisoner exchange deal in 1974.

The upcoming Jewish holiday of Passover, Israeli Independence Day celebrations in April and the planned move of the embassy in May could also lead to additional clashes.

Israel's Foreign Ministry called the planned marches "a dangerous, premeditated provocation meant to fan the flames of the conflict and increase tension."

There have already been a series of security incidents along the border recently, including a bombing that wounded four Israeli soldiers last month. On Tuesday, three Gazans armed with hand grenades managed to cross into Israel and travel some 30 kilometers (20 miles) before they were caught.