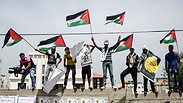 Hamas plans wave of protests for Nakba Day
In anticipation of Israel's 70th Independence Day—seen by Palestinians as 'Nakba Day'—and the planned move of the US embassy to Jerusalem, Hamas plans mass border protests involving elderly, women and children; IDF fears countering protests with force may tarnish Israel's image in the world.
The IDF is making preparations for a new wave of riots and provocations in the Gaza Strip, expected to grow stronger as Nakba Day—May 14—draws close, which is also the date where the United States is set to inaugurate its Jerusalem embassy.

Nakba Day, usually marked on May 15, was inaugurated by former Palestinian Liberation Organization chief Yasser Arafat in 1988 to commemorate the Palestinian nakba—"catastrophe" in Arabic—set to coincide with the Israeli Declaration of Independence in 1948.

In the coming weeks, Hamas plans to set up tent encampments along the Gazan border with Israel, where thousands of the strip's denizens will be housed, with the intention to march hundreds of Palestinians every day—including the elderly, women and children—to the border fence in "return marches."


At the same time, Hamas also intends to hold mass fishing boat protests near the maritime border with Israel. These actions will gradually grow in intensity and culminate just before Israel's 70th Independence Day.

Hamas has presented this planned wave of protests in Gaza as the initiative of private citizens. The tent camps, made up to look like refugee camps, are intended to express Hamas's protest against what the terror group perceives as an American attempt to topple the United Nations Relief and Works Agency (UNRWA), thereby effectively erasing the issue of Palestinian refugees from international consciousness.

The army's Southern Command is making its own preparations to counter the protest, with one key issue in planning being the participation of women and children in the marches. The IDF fears that any attempt to forcefully prevent protesters from moving forward will cause Israel significant PR damage.

The IDF also fears the possibility of citizens being harmed and back-and-forth around the fence escalating into armed conflict, all on the backdrop of a worsening humanitarian situation and desperation prevalent among the strip's occupants at the lack of progress in Hamas's talks with the Palestinian Authority.

Not all is rosy within Hamas's own ranks, however, with growing resentment spreading within the Gaza group and directed at its leader, Yahya Sinwar, whose political decisions are said to have exacerbated Hamas's seclusion within the Arab world.