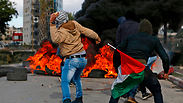 Clashes in Ramallah
Photo: AFP
Thousands of Palestinians took to the streets on Thursday to protest against US President Donald Trump's decision to recognize Jerusalem as Israel's capital.
At least 31 Palestinians were wounded in the clashe with Israeli security forces, the Palestinians reported. Eleven protesters were hit by live fire and another 20 by rubber bullets, medics said.
A IDF spokeswoman said soldiers had used riot-dispersal gear against hundreds of rock-throwers.
Clashes in Jersualem (צילום: עיר עמים)
Hundreds of Palestinians protested at the Damascus Gate in Jerusalem, carrying Palestinian flags. Among other things, protesters called out "We will sacrifice our lives for al-Aqsa."
Some protesters had minor clashes with the large Israeli security forces on the scene.
In the afternoon, dozens of Palestinians blocked a road near the Damascus Gate, shouted invectives and hurled water bottles and other objects at security forces. Three Palestinians were arrested.

"Trump shot himself in the foot," said Ali Mahmoud from east Jerusalem. "He doesn't get to decide anything. We're the residents here and this is our land. Trump's declaration will not change anything in our position and struggle. Al-Quds (Jerusalem's Arab name) is the capital of Palestine. Trump is better off looking for a game elsewhere, and far away from us. We've known for a while that he is a stupid person, and in the end he will lose and this will cost him."
A schoolgirl from east Jerusalem expressed disappointment of the lack of response among the Israeli Arab sector. "I won't be calm unless we fight against Trump's decision. After reading the condemnations on Facebook yesterday, I thought there was going to be war today, but unfortunately there is almost no response here," she said. "Me and many other students just want to be on the ground. If it's too difficult for the men, then us women have the strength to do a lot of things that would lead us to a right and just struggle, and not just talk."
Another east Jerusalem resident also criticized the Israeli Arab leadership. "We've had enough of slogans. Come to Jerusalem and head the demonstrations. Don't fear for your jobs, otherwise you'll lose the (trust) of the Arab citizens," he warned.
In the West Bank, thousands of Palestinians protested in several different cities, including Jenin, Hebron, Bethlehem, Ramallah, Beitunia, Tulkarm, Qalandiya and Nabi Salih. Protesters hurled stones at Israeli security forces, who responded with crowd dispersal measures.
Four people were wounded by live gunfire and another 20 were hit by rubber bullets, Palestinian health officials said.
In the afternoon, the Gilboa border crossing, north of Jenin, was closed due to violent rioting there.
In Ramallah, the seat of the Palestinian government, protesters set tires on fire, sending a thick plume of black smoke over the city.
Hebron thousands of demonstrators rallied with chants of "Jerusalem is the capital of the State of Palestine." Israeli security forces arrested six Palestinian rioters, while two other Palestinians were hurt.
In the biblical town of Bethlehem, troops fired water cannons and tear gas to disperse a crowd, in clashes that could cloud the upcoming Christmas celebrations in the town of Jesus' birth.
Protests and rioting were also ongoing in the Gaza Strip, where dozens of Palestinians gathered at two points on the southern Gaza border fence and threw rocks at soldiers on the other side. The troops responded with crowd dispersal measures and at some instances with live fire as well.
Seven protesters were wounded by live fire, one was in a critical condition, the Hamas health ministry said.
In cities inside Gaza, thousands of Palestinians rallied, some chanting: "Death to America! Death to the fool Trump!" and burning tires.
Demonstrators also burned posters of Trump and Prime Minister Benjamin Netanyahu, as well as Israeli and US flags.
Spontaneous protests also sparked in Gaza overnight, with angry youths burning tires, American and Israeli flags and Trump posters.
Palestinian secular and Islamist factions called a general strike and rallies as part of three "days of rage" to protest Trump's decision.
Answering the call for strike, the Palestinian education ministry declared a day off and urged teachers as well as high school and university students to take part in the planned rallies in the West Bank, the Gaza Strip and Palestinian areas in Jerusalem.
Member of armed groups including from Palestinian President Mahmoud Abbas's Fatah faction, appeared at a news conference in Gaza, their faces hidden by masks and called for a resumption of armed resistance in the West Bank.
Abbas travelled to the Jordanian capital, Amman, to meet King Abdullah where he updated him on the latest developments, the Wafa news agency said.
Reuters contributed to this report.