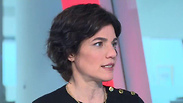 Meretz leader Zandberg calls for inquiry into Gaza border deaths
In light of deadly clashes Friday that resulted in deaths of Palestinian civilians, some of which were unarmed, Meretz leader MK Zandberg echoes UN Secretary-General's request for investigation of the incident; Defense Minister Lieberman mocks her, suggests we should have instead given Hamas flowers for their 'festival.'
Newly appointed Meretz leader MK Tamar Zandberg called for an investigation Saturday into the deadly clashes that took place the previous day on the Gaza border, which resulted in the deaths of 16 Palestinians.

Zandberg said that in light of "extensive harm done to the Palestinians yesterday on the Gaza Strip border, and after testimonies emerged of shooting at unarmed protesters, including footage showing a protester shot in the back, Meretz calls for an investigation of the events."

"The harsh results and the filmed testimonies require an independent Israeli examination, including an examination of the rules of engagement and the military and political preparations for the event," Zandberg added.

"It is an Israeli duty to know what happened there, and beyond that it is also an Israeli interest to prevent the security situation from deteriorating into a dangerous round of violence."

According to Zandberg, "a trigger-happy policy should not lead to the loss of innocent lives and light the entire region. The safety and well-being of people on both sides of the border depend on each other and Israel is obligated to act with restraint and according to the law.

"A genuine and independent Israeli investigation is necessary to draw conclusions and avoid further escalation. This is the time to lift the siege on Gaza and discuss humanitarian relief instead of inflaming the region further."

Palestinian protester shot in the back

UN Secretary-General Antonio Guterres called Friday for an independent investigation into Friday's border clashes, while Security Council members urged restraint on both sides.

Guterres said he appealed to the parties involved and asked to "refrain from any action that could cause additional casualties, especially civilian casualties."

Defense Minister Avigdor Lieberman mocked those calling for an investigation, suggesting they may have gotten confused and though Hamas organized a music festival, and not a hostile march on Israel's border which the IDF says was "cynically exploited" by the terror organization to besmirch Israel's name and sabotage border infrastructure.

"IDF soldiers repulsed Hamas military wing operatives with determination and professionalism, just as we expected of them," Lieberman praised, adding he gives them his full backing, for they are the reason Israelis could "safely celebrate Passover Seder."

"I do not understand the choir of hypocrites who wants a commission of inquiry," he slammed. "They got confused and thought Hamas organized the Woodstock Festival yesterday and we have to give them flowers."

Prime Minister Benjamin Netanyahu also gave his backing to the soldiers, writing on twitter, "Well done to our soldiers who are guarding the country's borders and allowing Israeli citizens to celebrate the holiday quietly. Israel is acting determinately and resolutely to defend its sovereignty and the security of its citizens."

Minister of Finance Moshe Kahlon echoed Lieberman and Netanyahu's backing of the troops, saying they face "a cynical and cruel enemy who uses seven-year-olds as human shields" and thanking them for allowing "the residents of the Gaza vicinity and all the people of Israel celebrate the Seder night quietly and safely."