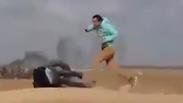 Nabi, in black, getting shot
A video was posted on Palestinian social media pages on Saturday showing a Palestinian man shot to death by a sniper near Jabalia during the "March of Return" rioting on the Gaza border the previous day.

According to the Palestinians, 20-year-old Abdel Fattah Abdel Nabi was retreating from the perimeter area (the buffer zone between the Gaza Strip and the border fence) with another young Palestinian and was shot when his back was to IDF forces.

"Hamas distributes many different videos, including those that show only parts of events, edited and fabricated," the IDF responded. "Our forces acted according to the rules of engagement in a thoughtful manner, while refraining from harming civilians whom Hamas placed on the front lines in order to embarrass Israel while endangering those civilians."

Video showing al-Nabi getting shot

One of the Palestinian protesters is seen in the video picking up a tire and running with it away from the border fence and towards the Gaza Strip. Nabi is seen joining him and taking the tire from him.

The video then shows Nabi continuing to run away from the border fence, getting hit and dropping to the ground. The video does not show Nabi's actions before his retreat.

Other protesters who were in the area evacuated him.

At least 16 Palestinians were killed and some 1,400 more were wounded by IDF gunfire along the Israel-Gaza border, according to Palestinian sources.

Palestinian health officials said 758 of the protesters were wounded by live gunfire, while others were struck by rubber bullets or treated for tear gas inhalation.

It was the deadliest day in Gaza in several months. Eleven of the Palestinians were killed during the clashes, a farmer was killed by pre-dawn tank fire in a separate incident, and four others from IDF tank fire at an observation post in the northern Gaza Strip.

The IDF said two of the Palestinians killed were members of Hamas's elite Nukhba force. The military also said all of the dead were terror activists aged 18 to 30. According to Palestinian reports, one of those killed was reportedly 16 while another was 33.