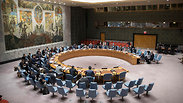 UN Security Council
Photo: AP
UN leader calls for investigation into Gaza border clashes
Security Council fails to agree on action or joint message during emergency session on situation in Gaza; Palestinian envoy says disappointed UN didn't condemn 'heinous massacre of peaceful demonstrators'; in statement before meeting, Israeli ambassador says 'Palestinians sunk to a new deceitful low so that they could use the UN to spread lies about Israel.'
UN Secretary-General Antonio Guterres called Friday for an independent investigation into deadly clashes in Gaza between Palestinians and IDF troops, while Security Council members urged restraint on both sides.

The council failed to agree on any action or joint message after an emergency meeting Friday evening. Kuwait convened it hours after the bloodiest day in Gaza since the 2014 cross-border war between Israel and Hamas, the Islamic militant group that rules the coastal strip.

The council had been due to meet behind closed doors. But after it became clear the 15-member body would be unable to agree on a statement on the situation, diplomats said Kuwait requested the meeting be held publicly.

Sixteen people were killed and more than 1,400 wounded by Israeli fire as tens of thousands of Palestinian protesters marched to Gaza's border with Israel, the Palestinian Health Ministry said. The Israeli military said that thousands of Palestinians threw stones and rolled burning tires toward troops, that Palestinian terrorists opened fire toward soldiers in one incident and that militants were trying to conduct attacks under the cover of protests.

Guterres wants "an independent and transparent investigation" into the violence and reaffirmed "the readiness" of the world body to revitalize peace efforts, spokesman Farhan Haq said.

Palestinian Ambassador Riyad Mansour said he was disappointed the Security Council didn't coalesce to condemn what he called a "heinous massacre" of peaceful demonstrators, or to support his call to provide protection for Palestinian civilians.

"We expect the Security Council to shoulder its responsibility" and "defuse this volatile situation, which clearly constitutes a threat to international peace and security," Mansour said.

Israeli Ambassador Danny Danon said "the international community must not be deceived" by what he termed "a well-organized and violent terror-gathering" under the banner of a peaceful march.

"The Palestinians sunk to a new deceitful low so that they could use the UN to spread lies about Israel" while its representatives weren't there because of the Passover holiday, Danon said in a statement issued before the meeting.

Some Security Council members suggested an investigation and emphasized that Israel should ensure force is only used proportionally. Some also made a point of noting Israel's security concerns and calling on demonstrators to avoid violence.

They all expressed alarm at the flare-up of conflict in a volatile region. "There is fear that the situation might deteriorate in the coming days," said assistant UN secretary general for political affairs, Taye-Brook Zerihoun, urging maximum restraint.

צילום: רויטרס

"Israel must uphold its responsibilities under international human rights and humanitarian law. Lethal force should only be used as a last resort with any resulting fatalities properly investigated by the authorities," Zerihoun added.

"The situation is extremely worrisome," said Swedish deputy Ambassador Carl Skau. Equatorial Guinea's ambassador, Anatolio Ndong Mba, warned that continuing violence could "escalate out of control and could further imperil what is already a very delicate situation" in Gaza.

Britain and the United States expressed regret that the timing of the meeting–the first night of Passover–meant Israeli officials could not attend. Leading ambassadors sent deputies in their place.

US representative speaks at meeting (צילום: רויטרס)

"It's vital that this Council be balanced in its approach," Walter Miller, an adviser at Washington's UN mission, told the meeting. "We should have found an arrangement for all parties to participate tonight," he added.

"We are deeply saddened by the loss of life today," the diplomat added. "Bad actors who use protests as a cover to incite violence endanger innocent lives," he added.

"The risk of escalation is very real," the French representative said. "There is the possibility of a new conflict in the Gaza Strip."

Russia and China, meanwhile, emphasized a need to step up diplomatic efforts toward resolving the Israeli-Palestinian conflict as a whole.

AFP and Reuters contributed to this story.