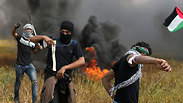 Palestinian protesters on Friday
Photo: Reuters
Israel holds bodies of Gaza terrorists killed Friday
While Palestinian officials, Turkey and Iran accuse Israel of 'brutally massacring' peaceful protesters, IDF says most killed in Friday's border clashes were in fact terrorists; Masab Salul, a member of Hamas's military wing, and Mohammed Rabaya killed after opening fire at IDF soldiers from Gaza border; Israel says it has their bodies.
Israel holds the bodies of two of the terrorists who opened fire at IDF forces on Friday in the northern Gaza Strip, it was reported by Al-Hayat and confirmed by outgoing Coordinator of Government Activities in the Territories Maj. Gen. Yoav Mordechai on Sunday.

Masab Salul, 23, a resident of Az-Zawayda and a member of Hamas's military wing, shot at IDF soldiers on the other side of the border along with Mohammed Rabaya.

The troops responded with gunfire at the terrorists and tank and aircraft fire at Hamas and Islamic Jihad observation positions in the north and south of the Gaza Strip.

"A common value in Judaism and Islam is to bury the dead," Mordechai noted in a Facebook post in Arabic, saying Israel does not intend to return the bodies of the two until Israelis held by Hamas, both deceased and alive, are returned to their families.

"Israel will not rest and the residents of Gaza will not know peace until the Israelis are returned from the Gaza Strip and our soldiers will be brought for burial in Israel," he threatened, saying the bodies of the two terrorists now join those captured in operation protective edge and the October 2017 detonation of a terror tunnel on the Gaza border, totaling 24 in number.

Mordechai then directly addressed the residents of Gaza, telling them Hamas is robbing them of their right to bury their dead. "The Hamas terror organization that controls Gaza does not care either about the living nor about the dead, it prevents their proper Islamic burial," He accused.

Simcha Goldin, the father of fallen IDF soldier Lt. Hadar Goldin, whose body is still being held by Hamas, said Israel should keep the two's bodies as leverage.

"Israel must use the bodies as a bargaining chip … and hold them until a solution is found and our soldiers' (bodies) are returned," he said.

Salul's family said they learned of his death when they saw his photo in Palestinian media.

While there were reports of the funerals of 15 other Palestinians killed on Friday in clashes on the border as part of the "March of Return," there were no reports of Salul's funeral. Hamas and its military wing, the Izz ad-Din al-Qassam, made no comment on the matter.

A Palestinian source in Gaza claimed the body of the second terrorist who carried out the shooting attack is also being held by Israel.

The IDF said Saturday that at least ten Palestinians out of the 16 killed by Israeli gunfire on the Gaza border Friday were terrorist, eight of which were members of Hamas, which said earlier that day only five of which were its members.

The IDF's Arabic-language spokesperson, Avichay Adraee, provided details on each terrorist killed via Twitter, showing that while five were indeed from the Sunni terror organization's military wing, several members of the organization and other jihadists were omitted from their statement.

1. Masab Salul, 23 years old, from Az-Zawayda, a member of Hamas's military wing. Shot by the IDF after firing at Israeli forces alongside another terrorist.

2. Sari Walid Abu Odeh, 28, from Beit Hanoun, a member of Hamas's military wing.

3. Jihad Ahmed Fraina, 35, from Sheikh Radwan, a commander of a company in Hamas's military wing.

4. Ahmed Ibrahim Ashour Odeh, 19, from Gaza, a member of Hamas's military wing.

5. Hamdan Isma'il Abu Amsha, 25, from Beit Hanoun, a Hamas operative.

6. Mahmoud Saadi Rahmi, 33, from Shuja'iyya, a Hamas operative.

7. Mohammed Naeem Abu Amr, 27, from Shuja'iyya, a Hamas military operative working in the excavation of terror tunnels.

8. Abdel Fattah Abdel Nabi, 20, from Beit Lahia, a member of Hamas's military wing. Caught on camera being shot in the back by an Israeli sniper, footage the IDF alluded to being "edited and fabricated."

9. Ibrahim Salah Abu Shaar, 29, from Rafah, a global jihad activist.

10. Jihad Zuhair Abu Jamous, 30, from Bani Suheila, a member of Fatah's al-Aqsa Martyrs' Brigades.

Despite this, in view of past precedents, it is quite possible that the findings of the investigations of Friday's events, alongside footage and testimonies from Gaza, may lead to the opening of a Military Police investigation into some of the deaths.

Operational investigations of this nature have not been objected to in principle or criticized by military commanders in the IDF's Gaza Division, primarily because of their importance as an additional internal inspection tool for the conduct of the forces and for promoting international legitimacy.

As part of it, the IDF is looking into whether any of the other Palestinians shot dead Friday were terrorists as well and into the exact circumstances of their deaths.

One such person was Bader al-Sabbagh, 20. The IDF did not list him on the list of the ten terrorists.

His brother Muhammad, 30, told the British daily The Guardian that he had seen Bader die. "He said, 'I'm bored, I'm fed up with this life,'" he recounted. "He asked me for a cigarette, took two puffs, and then a bullet hit him in the head. I carried him to the ambulance, but he died."

According to him, the two stood between the group of protesters who threw stones at IDF forces and the demonstrators at the back, where thousands of women, men and children gathered.

"He did not do anything, he just stood next to me," Muhammad claimed.

Land Day is just the first in several incendiary events likely to spark further violence in the coming weeks, culminating in Nakba Day, commemorated on May 15—the anniversary of Israel's establishment, known to Palestinians as "the Nakba," or catastrophe.

Another, the Palestinian Prisoners' Day, in which Palestinians express solidarity with Palestinian prisoners incarcerated in Israel and their families, is commemorated annually on April 17, the date in which the first Palestinian security prisoner was released in a prisoner exchange deal in 1974.

As in recent protests, demonstrators are expected to congregate near Ramallah, Hebron, Nablus and other Palestinian towns and villages. There, too, serious confrontations with Israeli security forces may lead to casualties.

On Saturday the confrontations were much less intense and ended with 25 Palestinian lightly-to-moderately injured.

In contrast, on Friday, hundreds of Palestinians were injured, aside from the 16 who were killed. Al-Shifa Hospital in the Gaza Strip said that 284 wounded were treated that day, most of them from shooting.

A spokesperson for the hospital claimed that 70 of them were girls aged 11-18.

In the coming days, the confrontations on the border are expected to continue at a lower rate during the week and to intensify on Fridays after noon prayers. In any case, it is estimated that the number of people in future demonstrators leading to Nakba Day will not approach the 30 thousand who congregated last Friday.

The protest tents erected in five locations on the Israel-Gaza border are set to stay occupied throughout.