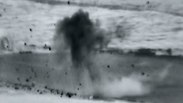 IDF retaliates to shooting
Photo: IDF Spokesman's Office
The IDF thwarted an attempt by a terror cell to carry out a shooting attack at the northern Gaza Strip on Friday evening.

According to the army, two terrorists came near the border fence and opened fire at IDF soldiers on the other side.

The Israeli troops responded with gunfire at the terrorists and tank and aircraft fire at at Hamas and Islamic Jihad observation positions in the north and south of the Gaza Strip.

IDF retaliates against Palestinian terrorists for shooting (צילום: דובר צהל)

The Palestinians reported four terrorists were killed in the fire exchange. None of the Israeli soldiers were hurt.

Tens of thousands of Palestinians swarmed the Gaza border fence on Friday as part of "The Great March of Return," called for by enclave's militant Hamas rulers.



GOC Southern Command Maj. Gen. Eyal Zamir said that IDF forces spotted attempts to carry out terrorist attacks, including planting explosive charges on the security fence, under the cover of the mass demonstration.

IDF officials estimated early Friday evening the violent clashes on the Gaza border will continue in the coming days, and that even after the great mass of rioters are dispersed, attempts will continue to sabotage the border fence and carry out attacks.

"We didn't allow any crossing of the border fence so far, and no significant damage has been caused to our infrastructure near the fence," said the IDF's Spokesman, Brig. Gen. Ronen Manelis.

"What's been happening since this morning is a violent terror protest. We're still in the midst of the event. So far, we've succeeded in our mission, and anywhere there was an attempt to damage the fence, accurate fire was used with strength, determination and discretion," Manelis added.

"We have information about plans to carry out many terror attacks during the rioting. A significant terror incident will lead to a response by us that will not be limited to the border fence area," the IDF spokesman warned.