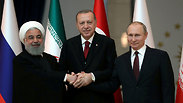 L-R: Presidents Rouhani, Erdoğan and Putin
Photo: Reuters
Putin, Rouhani meet Erdoğan for summit on Syria
Leaders of Russia, Iran and Turkey discuss resolution to Syrian civil war, call to maintain its territorial integrity, eject all terror groups; Iranian President Rouhani says IS serving American interests, while Turkish President Erdoğan says goals of radical Islamist group aligned with those of Kurdish rebels.
The leaders of Russia, Iran and Turkey met in Ankara Wednesday to discuss a resolution to the ongoing Syrian civil war. The meeting marked the second summit meeting held by Turkish President Recep Tayyip Erdoğan and his Russian and Iranian counterparts, Presidents Vladimir Putin and Hassan Rouhani.

The previous summit meeting between the three was held in Sochi, Russia, in November, 2017.

The leaders of the three powers published a joint statement in the wake of their meeting in which they underlined the importance of creating the infrastructure to allow the millions of Syrian refugees to return to their homeland, Iranian state television reported.

The leaders of Turkey, Iran and Russia added they were determined to speed up efforts to ensure "calm on the ground" in Syria, and to protect civilians in "de-escalation areas", according to the joint statement posted on the website of Iranian President Rouhani.

The Ankara talks between the three leaders also dealt with their countries' commitment to ensure Syria's territorial integrity, and to ensure localized cessations of hostilities continue. The three also discussed border security issues, humanitarian aid dispersal and drafting a new constitution for the war-torn country.
Erdoğan: Kurdish rebels, IS have same goal
Iran's President Hassan Rouhani told the leaders of Turkey and Russia at the summit Wednesday that the Syrian region of Afrin, captured by Turkish forces and their Syrian rebel allies, should be handed over to Syria's army, Iranian television said.

"The developments in Afrin can only be useful if they do not violate Syria's territorial integrity, and control of these areas should be handed over to the Syrian army," Rouhani said at the summit.

He added that the Islamic State (IS) terrorist group and other terror organization served the interests of certain powers, including the United States.

Erdoğan, for his part, said that Syria's territorial integrity depended on maintaining distance from all terrorist organizations, a reference to US support for the YPG Syrian Kurdish militia Ankara considers an enemy. Those who did not understand that IS and the Syrian Kurdish rebels harbored the same goals, he added, will not be able to continue to lasting peace in Syria.

While the road to resolving the conflict was still long and hard, the Turkish leader said, hope of success was growing stronger.

Russia and Iran both provided significant succor to embattled Syrian President Bashar al-Assad, whereas Turkey supported rebel groups that sought to depose him. All three countries supported several rounds of peace talks between the Damascus government and Syrian opposition, mediated localized ceasefires in four regions and assisted in reducing violence in the country.
Rouhani before the summit: 'Interference from Zionist forces in Syria has increased problems'
Before the summit, Iranian President Rouhani attacked the United States and Israel for their roles in Syria.

"The Americans are against the Syrian government establishing its authority throughout the whole country and are even thinking of a breakup (of the country)," he said in a ceremony broadcast live from Tehran's Mehrabad airport.

"There's interference from Zionist forces in Syria which has increased problems. They don't respect Syrian national sovereignty. They bomb areas in Syria. They support terrorists. These are all issues which have increased Syria's problems," he said.

Russia has boosted Assad's military capabilities in the conflict by bringing in key air support. Critics have accused Russia of targeting civilians, a charge Moscow has denied.

The US military has primarily limited its intervention in Syria to fighting Islamic State militants rather than targeting forces allied with the Syrian government.

Rouhani said there was no military solution to seven years of conflict in Syria, in which 500,000 people have been killed and half the population displaced. Only dialogue could end it, he said.

Shiite-dominated Iran is Assad's main regional ally and has acknowledged having military advisers and volunteers from its elite Revolutionary Guards in Syria.

Tensions ramped up between Israel and Iran in early February when anti-aircraft fire downed an Israeli F-16 warplane returning from a bombing raid on Iran-backed positions in Syria.

Israel then launched a second and more intensive air raid, hitting what it said were 12 Iranian and Syrian targets in Syria, including Syrian air defense systems.

Senior Iranian political and military officials have denied playing a role in shooting down the Israeli jet or launching a drone into Israeli territory.

The Associated Press and Reuters contributed to this report.