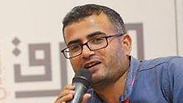 Political activist Ahmed Abu Artima
The Gazan activist whose post sparked the March of Return
Ahmed Abu Artima wondered in Facebook post what might happen if thousands of Gazans walked towards the border fence unarmed, and sparked the mass March of Return protests; Abu Artima professes objection to violent struggle and tire burnings, but says he does not oppose the presence of Hamas combatants near border fence; 'I wish to live with Israelis in a single state, without apartheid,' he declares.
Several months ago, a Gaza political activist wondered what would happen if thousands of Gazans crossed the border into Israel unarmed and attempted to return to their ancestral homes. His post ballooned into the "Great March of Return" campaign, which the IDF says has been co-opted by Hamas, and Friday's tire burning protest.

The activist, 34-year-old Gaza resident Ahmed Abu Artima, is now one of the campaign's leaders. On its first day, tent encampment were erected on the strip's border with Israel and 18 Palestinians were killed in widespread conflagrations.

The IDF and Shin Bet said 11 of the casualties were terrorists. Three additional Palestinians have been killed since, including an armed terrorist neutralized while attempting to infiltrate Israel through the border fence.

Many ascribe the protest's impetus to Abu Artima's Facebook post, which quickly went viral and galvanized locals into action.

The post wondered what might happen should thousands of Gazans, many of them refugees or the descendants thereof, attempted to cross the border unarmed to return to their ancestral homes.

The idea quickly became reality, and Abu Artima wished to stress the fact that protesters danced the Arab dabke folk dance in the tent encampments, as well as played soccer and even held weddings. "We're aiming to create a new culture," he said in an interview with The Guardian from Gaza.

Protesters burned thousands of tires on the Gaza border Friday as part of the "Friday of Tires." Abu Artima, for his part, cautioned against the use of such methods, saying they will only exacerbate tensions.

Contradicting Israel's claims about the guiding hand behind the protest, Abu Artima disavowed any affiliation with Hamas and said he wished to see Israelis and Palestinians living in a single country as citizens with equal rights.

"My personal opinion is that I don't believe in liberation," he replied after being asked about the Palestinian vision of vanquishing the State of Israel. "I believe in ending apartheid in Israel, as the apartheid regime in South Africa ended, and for us all to live in a single democratic country. I want to live alongside Israelis."

Abu Artima's family includes refugees from Ramla, who left the city in 1948 during the War of Independence. He added he opposed violent resistance, partly because he believed that strategy has failed.

"It is simply not necessary to resist the occupation with battalions. The occupation may just as well be resisted using dabke, or simply by sitting there," he elucidated.

However, Abu Artima articulated that he had no qualms about Hamas sending its combatants to the Gaza border. "I'm not a Hamas spokesman," he said. "It's positive that people have begun believing in peaceful opposition. Israel wishes to drag us towards violence. They don't want to confront people, they want to confront missiles and rockets."

In a conversation with Ynet last week, the political activist retorted to Israeli fears about a mass exodus of Palestinians towards the fence, and said, "If Palestinian refugees decide one day to break through the fence and enter Israel en-masse, that is their legal and principled right, but we have no intention of doing that in the campaign's first phase."