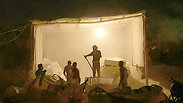 IAF fires on armed terrorist on Gaza border
Incident comes two days before residents of the Hamas-ruled enclave prepare to renew mass border protests, burning thousands of tires and using mirrors to obscure Israeli snipers' vision; fate of the terrorist not immediately clear, but Palestinian sources say a body has been removed from the scene.
An Israeli fighter jet fired at an armed terrorist near the border fence in the northern Gaza Strip overnight Wednesday, according to the IDF Spokesperson's Unit.

"The IDF will not allow harm to the security of the citizens of Israel and will act against terrorists involved in terror activities," an IDF statement said.

It was not immediately clear whether or not the terrorist had survived the gunfire.

However, four hours after the IDF announced it had targeted the terrorist, Palestinian rescue services said that a body had been removed from the scene of the attack east of the Zeitoun neighborhood.

The Palestinian Health Ministry officially confirmed shortly after that a man had been killed in the attack, but did not immediately release his details.

Also, a Palestinian wounded in the mass protest along the border last week died of his wounds on Thursday.

The incident is the latest episode in a wave of violence that has gripped the volatile border in recent months, with tensions mounting further since the Hamas terror group sent tens of thousands of Gazans to stage a "March of Return" last Friday.

Hamas video promoting tire campaign

During the march, 17 people were killed, at least 11 of whom were described as terror activists by the IDF and the Shin Bet.

The incidents also comes two days before the renewal of the mass marches staged by Gaza's residents, whose leaders have threatened to escalate tensions on Friday, launching the sequel to last week's riots in what has been dubbed "Tire Friday" by Hamas.

Due to the IDF's use of snipers during last Friday's March of Return riots along the Gaza security fence, protesters are resorting to the use of mirrors to blind IDF soldiers and to burning thousands of tires to create thick smoke to obscure them from sight.

Despite optimism among the terror group which rules the coastal enclave that the number of protesters on Friday will exceed the approximately 30,000 that showed up last week, fewer are expected to swarm the border.




With the new tactics of burning tires in the planned continuation of protest on the Gaza border on Friday, Israel has warned of the ecological consequences that may be caused.

The Coordinator of Government Activities in the Territories, Major General Yoav Mordechai, sent a letter to the head of the World Health Organization, in which he urged him to speak against the "ecological catastrophe" likely to be caused.

AP contributed to this report.