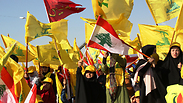 Hezbollah march in Lebanon
Photo: EPA
Hezbollah operations in Colombia revealed
Colombian police investigation sheds light on Hezbollah operations in Latin America; ESO or Unit 910, responsible for Burgas, Buenos Aires terror attacks, maintains presence under guise of legitimate organization while engaging in drug smuggling, money laundering and agent recruiting.
Undercover Hezbollah operations in South America were uncovered in an extensive investigation by the United States and Colombia. According to Colombian media sources, Hezbollah has a presence in the country under cover of a legitimate organization called the "External Security Organization" (ESO), which is essentially Unit 910, Hezbollah's foreign operations arm responsible for the 2012 terrorist attack in Burgas, Bulgaria and the attacks in Argentina during the 1990's.

The Spanish language news website Infobae reported that Hezbollah's presence and activities were confirmed by the Colombian police in a three year investigation carried out jointly with the US Drug Enforcement Agency.



The investigation allowed for the identification of commercial entities and platforms of which Hezbollah made use to cover-up its activities including drug dealing, selling and exporting stolen vehicles and money laundering; alongside the recruitment of locals for future terror related activities.

Colombian police worked with the local Interpol office to identify the Shiite terrorist organization's methods of operations. Firstly, the organization works to ensure the safety and secrecy of its members by settling its Middle Eastern agents in cities such as Cartagena, Barranqilla and Maicao using forged identification documents.

Next, the organization established commercial entities dealing in textiles (including smuggling garments from Panama to Lebanon), the export of coal to Lebanon and the sale of meat.

According to Colombian intelligence sources, 80% of the income from these activities are channeled through European banks on their way to Beirut and are used to support the terror organization. The remaining 20% are re-invested in Colombian and Panamanian enterprises.
Orders issued by Iran
Recruitment and indoctrination takes place on many levels. First, supporters are recruited at local mosques and community centers and they are sent to Lebanon with "scholarships." There are 40,000 Muslims in Colombia, five mosques and 10 Islamic cultural centers.

During the last 15 years, conversions to Islam have increased by 40%. Hezbollah uses social networks in Colombia and Panama to identify supporters it can brainwash and tries to get them to convert with the end goal being to turn them into Hezbollah agents.

Colombian authorities discovered that the orders are issued in Tehran via Lebanon and from there to local affiliate ESO. One of the senior members of the web was Abdallah Rada Ramel, a Lebanese, responsible for Hezbollah operations in Panama. He travels between many countries including Venezuela, Paraguay, Brazil, Argentina, Germany, Switzerland and the United States. About a year ago, he was expelled from Colombia after being indicted for drug smuggling and money laundering.
Mughniye headed ESO until assassination
The "External Security Organization" (ESO) may sound mundane but it is essentially Hezbollah's foreign operatrions arm, sometimes called Unit 910. Imad Mughniye was the organization's founder and leader until his assassination in 2008; its current head is Talal Hamiyeh.

In Australia, the ESO is designated a terrorist organization and a government website calls it "the clandestine arm of Hezbollah, responsible for planning and carrying out terror attacks against Hezbollah's enemies outside of Lebanon. ESO acts independently of the mother organization and has become one of the most organized terrorist organizations in the world."

Among others, ESO was deemed responsible for the 2012 terror attack in the Bulgarian resort of Burgas in which five Israelis and a Bulgarian driver were killed; the 1994 bombing of the Jewish Community Center in Buenos Aires which killed 85 people; and the bombing of the Israeli Embassy in Argentina two years prior, which killed 29 people and injured 242.

In addition, ESO was involved in many attempts to carry out attacks. In 2014, a member of the organization admitted to planning an attack against Israelis in Bangkok, Thailand. In 2013, ESO agents were arrested in Nigeria and a weapons cache was discovered. That same year, a dual citizen of Lebanon and Sweden was arrested in Cyprus for conducting surveillance on Israeli tourists in Europe.