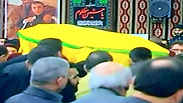 Funeral of Jihad Mughniyeh
A Lebanese newspaper unofficially affiliated with Hezbollah published new details on Monday of a strike attributed to Israel, in which a senior Iranian general and the son of Imad Mughniyeh were killed, among others.

According to the Al-Akhbar report, the two targets, as well as other Hezbollah members and Iranian soldiers, were travelling in two vehicles on the northern section of the Quneitra district, some seven kilometers from the border with Israel.

Al-Akhbr reported that after the two SUVs, a Jeep Cherokee and a Kia Sorento, had moved 400 meters away from a UNDOF base – but before they arrived at a headquarters for the Syrian regime's paramilitary militia – an Israeli chopper fired two missiles, hitting its targets.

On Monday afternoon, Jihad Mughniyeh – whose father was eliminated by a car bomb in Damascus in 2008 – was laid to rest; the rest of the victims will be buried on Tuesday. The pro-Hezbollah paper noted that Israel had already attacked the area using similar means – they claimed an Israeli helicopter fired at a vehicle on June 17.

Funeral of Jihad Mughniyeh (צילום:רויטרס)

The report said Muafak Badriyeh, a resident of Hadar – a village in southern Syria – and one of the leaders of the resistance on the Golan Heights. According to Al-Akhbar, a guided missile was fired on his vehicle, after his involvement in rocket fire on IDF positions in the Golan Heights.

Iran's Revolutionary Guard confirmed Monday afternoon that Iranian General Mohammed Ali Allah Dadi was killed in Sunday's attack at Quneitra. At the same time, a source close to Hezbollah told the French news agency AFP that the attack on Syrian soil killed six Iranian military personnel, in addition to the six Hezbollah activists whose deaths were reported Sunday night.

A Hezbollah statement on Sunday named the six killed in the attack as Jihad Mughniyeh, 25; Mohammed Issa, 43 (the only one ranked as commander); Abbas Ibrahim Hijazi, 36; Mohammed Ali Hassan Abu Al-Hassan, 30; Razi Ali Dawi, 27; and Ali Hassan Ibrahim, 22.

Ron Ben-Yishai and AFP contributed to this report.