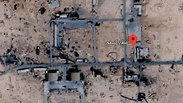 The target of an airstrike early Monday at the T-4 airbase in Syria was apparently an Iranian drone base.

The Syrian Observatory for Human Rights, a British-based monitor, said at least 14 people were killed in the Sunday's raid, including four Iranian "military advisers."

While Russia, the United States, Syria and Iran have all attributed the strike to Israel, Jerusalem has neither confirmed nor denied it.

Footage of alleged attack

The T-4 complex in the eastern Homs province, 60km east of Palmyra, has recently been used by Iranian-backed militias fighting in Syria. It was built at a strategic location, close to Syrian gas fields, and was under ISIS control until the Syrian army, with backing from Russian forces, reclaimed it.

Two months ago, an Iranian drone coming out of the T-4 base was shot down by Israel. During a retaliatory IAF strike on the drone's point of origin in Syria, one Israeli F-16 was shot down by Syrian aerial defense. Israel struck back with a larger scale attack, hitting 12 targets in Syria. It is likely the Iranians have been working to rebuild the infrastructure destroyed in the Israeli attack.

Earlier Monday, the semi-official Fars news agency named the four killed Iranian military as Seyed Ammar Moussavi, Medi Lotfi Niyasar, Akbar Zawwar Jannati, Mehdi Dehqan Yazdeli.

Yazdeli was reportedly a member of the Revolutionary Guards Aerospace Force, a division that operates drones, which further strengthen the assertion Iran's drones array in Syria was the target.

Syria initially accused the US of carrying out the strike in retaliation for an alleged chemical weapons attack Saturday in Douma, which was attributed to the Syrian regime. Washington denied the charges, and later confirmed Israel was behind the attack, and that the IDF informed the Americans of its intentions beforehand.

Russia too accused Israel of carrying out the airstrike, with Russian Foreign Minister Sergei Lavrov saying the air strike "was a dangerous development."