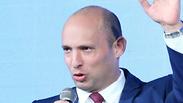 Education Minister Bennett
Photo: Motti Kimchi
Bennett to bring override power bill to a vote in Ministerial Committee
Bayit Yehudi leader laments 'foot dragging' on passing legislation that would give Knesset the power to bypass High Court rulings and reapprove disqualified laws with only a 61 MK majority; 'Israel is facing a historic opportunity to curb the exaggerated power of the courts.'
Education Minister Naftali Bennett said Sunday the controversial bill proposal to give the Knesset override power over the High Court of Justice will be brought to a vote in the Ministerial Committee for Legislation next Sunday, even before the beginning of the parliament's summer session.

The proposal, which is sponsored by Bennett's fellow Bayit Yehudi Minister Ayelet Shaked, determines that a mere 61 MK majority (out of 120 lawmakers) would be sufficient to reapprove legislation struck down by the High Court.

Bennett asserted the notwithstanding clause was the middle ground between giving the High Court absolute power to strike down laws—which is the current situation—and completely preventing the court from disqualifying laws.

"The State of Israel is facing a historic opportunity: To pass the notwithstanding clause and lead to a reform in the fight against terrorists and in removing the illegal infiltrators, but also in curbing the exaggerated power of the court in Israel," Bennett said.

"This is why I informed the prime minister several weeks ago that we have to promote the legislation, but unfortunately not only did the bill we propose not go up for discussion, no other bill was raised in its stead," the Bayit Yehudi leader criticized. "After years of foot dragging, discussions and committees, it's time to act. We expect all members of the government to support the balanced law—it's time to move from words to actions."

Prime Minister Benjamin Netanyahu wants to pass the broad legislation, but Kulanu leader Finance Minister Moshe Kahlon is opposed and demands the override power would only apply to the African migrants' issue, rather than any law.

South Tel Aviv residents, who support the deportation of African asylum seekers and refugees from Israel, welcomed Bennett's efforts to promote the legislation, which would help untangle the legal knot created after the High Court struck down legislation that would've allowed the expulsion of the Africans, who mostly live in their neighborhoods.

"We expect that together with Prime Minister Netanyahu and Finance Minister Kahlon, a bill proposal will be promote that leads to a quick and full solution for south Tel Aviv, which includes the rehabilitation of the neighborhoods," the residents said in a statement. "We hope the override power clause will pass in the coming summer session."

On Saturday night, thousands took to the streets in Jerusalem and Tel Aviv to protest against the prime minister's attempts to push the notwithstanding clause legislation.