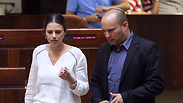 Ministers Shaked (L) and Bennett
Photo: Gil Yohanan
Bennett, Shaked to sponsor HCJ-circumventing legislation on asylum seekers
In the wake of an agreement resolving asylum seeker issue being accepted and then annulled within hours, Ministers Shaked, Bennett to promote amendment to Basic Law: Human Dignity and Liberty preventing High Court from striking down law enacted by 61 MK majority; alternatively, legislation to begin on new migrant law HCJ will be hard pressed to strike down; 'Notwithstanding clause with 61 MK majority is nothing less than assassinating High Court's independence, power and jurisdiction,' says senior judiciary official.
Ministers Naftali Bennett and Ayelet Shaked (Bayit Yehudi) announced Wednesday evening their intention to sponsor as early as next week a redrafting of a migrant deportation bill, this time including a notwithstanding clause that will effectively bar the High Court of Justice from striking the law down.

Bennett and Shaked have decided to move on new legislation in the wake of the rapid sequence of events in which an agreement was reached with the United Nations to resettle half of the asylum seekers in Israel, only to nix it hours later.

A notwithstanding clause will allow the Knesset to reenact any law struck down by the High Court with a 61 MK majority.

Education Minister Bennett further announced Wednesday that he will seek to promote at the next meeting of coalition heads a general notwithstanding clause, to be inserted into Basic Law: Human Dignity and Liberty, during the Knesset's current hiatus, thereby allowing the law preventing infiltration to be legislated again.

Alternatively, the minister said he will be demanding to amend the law regulating entrance into Israel, without risking the High Court overruling it.

To push the plan forward, Justice Minister Shaked will convene the Ministerial Committee on Legislation next week to begin the legislative process.

"This is not a High Court-circumventing bill, but a bill according to which the people are the sovereign. We intend to convene the committee next week to approve a notwithstanding clause that will allow us to remove illegal infiltrators from Israel, without the High Court striking down iteration after iteration of the bill," Bennett wrote on his Telegram account.

"I'm convinced all coalition officials will support this speedy legislative measure," he added.

Prime Minister Benjamin Netanyahu and Interior Minister Aryeh Deri, meanwhile, are still attempting to find an alternative agreement to replace the previous one, which was annulled following scathing criticism from the right.

Finance Minister Moshe Kahlon announced Tuesday night he will not object to redrafting the bill and inserting a notwithstanding clause into the Basic Law, thereby shielding it from the court's oversight.
Judiciary officials voice concern
A senior judiciary official voiced deep concern with the impending legislative measure, saying that "inserting a notwithstanding clause with a 61 MK majority is nothing less than assassinating the independence, power and jurisdiction of the High Court."

"It has always been the court's opinion that a majority of at least 75 MKs will be necessary to overcome the High Court striking a law down. Sixty-one MKs in favor, however, is an always-available coalition majority and will make all High Court rulings on striking down legislation not worth the paper they were printed on and immediately bypassed by new legislation," he concluded.

Prime Minister Netanyahu convened a press conference with Minister Deri Monday in which he announced the agreement. Moments later, however, he was inundated by pressures from both central Likud activists and south Tel Aviv residents to annul it.

Senior Likud ministers and other coalition partners also spoke out against the premier, who was forced to bow out of the agreement and announce its cancelation.