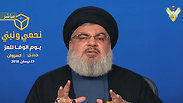 Hassan Nasrallah
Photo: EPA
Nasrallah: assassination of Hamas engineer a 'Zionist crime'
Speaking ahead of Lebanon's parliamentary elections next month, Hezbollah secretary-general says murder of Hamas electrical engineer Fadi al-Batsh in Malaysia Saturday is 'an expression of the ongoing Israeli plan that does not spare any Arab mind.'
Hezbollah Secretary-General Hassan Nasrallah has blamed Israel for the mysterious assassination of Palestinian Hamas electrical engineer Fadi al-Batsh in Malaysia over the weekend, slamming it as a "Zionist crime."

"We must condemn this Israeli assassination of a Palestinian-Arab scientist and the martyr Fadi al-Batsh," Nasrallah said during a speech delivered at an event organized by the Hezbollah terror group ahead of the Lebanese parliamentary elections next month.

The Gaza-ruling terror group, Hamas has also attributed 35-year-old Dr. Fadi al-Batsh's murder to Israel.


"This is an expression of the ongoing Israeli plan that does not spare any Arab mind—a mind that contains knowledge, expertise, experience, or a mind that may one day be part of the Arab nation," Nasrallah said in his speech.

According to the secretary-general, "this is the reason that they are pursuing Arab scientists and academics, from Iran to Tunisia to Malaysia. Even a number of Lebanese minds were killed in the last weeks and months under mysterious circumstances around the world."

In the past few days, Nasrallah has increased the number of speeches delivered in a bid to shore up public support for the elections, particularly in electoral districts which identify with the terror group.

Malaysian police on Monday released facial composites of two suspects behind the assassination of al-batsh in Kuala Lumpur on Saturday. The pictures were distributed by the authorities at all of the country's exit points.

Mohamad Fuzi Harun, inspector general of the Royal Malaysia Police, said the photofits were compiled based on eyewitnesses' testimonies.

"We have experts who say the facial composites match the eyewitnesses' testimonies, but we can't reveal any additional information."

According to the Malaysian police's description, the two suspects are well-built, fair-skinned men, approximately 180 centimeters tall, and it is still uncertain whether they are still in the country or left after the assassination.

The inspector general added that the two suspects were believed to be of European or Middle Eastern descent.

"We retrieved 14 bullets from the victim's body and sent them to our weapons experts here for an analysis," he said.