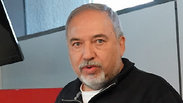 Defense Minister Avigdor Lieberman
Photo: Efraim Sharir
Lieberman: If Syrians use Russian missiles against us, we'll strike back
Defense minister says Russian air defense systems already deployed in Syria but don't act against Israel, warning that if Syria uses advanced S-300s to attack IAF aircraft, Israel will retaliate; also rejects Nasrallah accusations about killing Arab scientists.
Defense Minister Avigdor Lieberman warned Tuesday that if Syria uses Russian-made air defense missiles against Israel, the IDF will strike back.

"What's important to us is that the defensive weapons the Russians are giving Syria won't be used against us," Lieberman told Ynet. "If they're used against us, we'll act against them."

Russia's daily Kommersant newspaper, citing unnamed military sources, reported earlier on Monday that Russia might start supplying the anti-aircraft missile systems to Syria in the near future.

Kommersant said that experts believed that Israel would react negatively to any decision to supply the missiles and might bomb the area where they would be deployed.

A Russian diplomat told Reuters on Monday that Israel has asked Moscow not to supply the Syrian military with the advanced S-300 missile systems.

"I hear and read most of these reports, (but) they have no basis in reality," Lieberman said. "One thing should be clear—if anyone's shooting at our planes, we'll destroy them."

The defense minister went on to say that while Israel "doesn't interfere in Syria's internal affairs, but on the other hand we won't allow Iran to flood (the country) with advanced weapons systems that would be aimed against Israel."

He argued that Iran was the problem and not Russia, as Russian air defense systems have already been stationed in Syria and have not been used against Israel.

"We have an open line; we really do have discourse (with the Russians). Sometimes it's a complicated discourse, but it is open," he explained. "For several years we've been constantly in coordination and able to avoid friction with the Russians."

"The only ones to act against us are the Syrians. When the Syrian systems acted against us, we destroyed them," the defense minister stressed.

Hezbollah Secretary-General Hassan Nasrallah blamed Israel for the mysterious assassination of Palestinian Hamas electrical engineer Fadi Albatsh in Malaysia over the weekend.

"This is an expression of the ongoing Israeli plan that does not spare any Arab mind—a mind that contains knowledge, expertise, experience, or a mind that may one day be part of the Arab nation," Nasrallah said in a speech.

According to the Hezbollah leader, "this is the reason that they are pursuing Arab scientists and academics, from Iran to Tunisia to Malaysia. Even a number of Lebanese minds were killed in the last weeks and months under mysterious circumstances around the world."

Lieberman rejected the allegation, saying "I have no idea what he's talking about. He's in the middle of a campaign (for Lebanese parliament elections in May—ed)... I don't know what they made up. He needs to give some speech, make some headline every now and again, I wouldn't treat it very seriously."

US President Donald Trump is set to decide next month whether to withdraw from the nuclear deal signed with Iran. Lieberman said the US "doesn't ask us" what to do, "and it'll act based on its own considerations."

"The US president will make his decision regardless of pressures put on him, and there is a lot of pressure," the defense minister added, noting current and upcoming visits to Washington by French President Macron, German Chancellor Merkel and likely British Prime Minister May.

Regardless of the decision, "We're prepared for any scenario," he said.