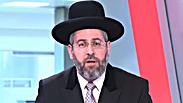 Rabbi Lau
Photo: Ynet studio
Israel's chief rabbi orders German Jews to keep skullcaps
Despite potential danger of falling victim to hate crime, Chief Rabbi Lau says kippah is 'Jewish symbol,' orders Jews to 'keep wearing it proudly'; 'Hiding Jewish identity not the solution,' agrees Berlin's rabbi; MFA official: 'Sad testament to Jewish communities' grim lot in Europe.'
Israel's Chief Rabbi David Lau called on German Jewry to refrain from removing skullcaps from their heads while out in public, despite the danger of being targeted for anti-Semitic hate crimes as a result.

Following a recommendation by the chairman of the Central European country's Jewish council, Rabbi Lau published a call contradicting his European colleague, saying, "The kippah is a Jewish symbol, keep wearing it proudly."

A source close to Israel's preeminent rabbinical authority said he was contacted by German citizens who appealed to him for a ruling on how to act, and he responded by calling on them to come to Israel.

He did, however, clarify that "so long as they are in Germany and other countries abroad, they must wear the Jewish symbol of the kippah proudly and not remove it", and that the same pertained to tourists visiting those countries.

"Jews should not be demanded to remove their skullcaps from their heads," Rabbi Lau stated, "but Germany's law enforcement authorities should be appealed to in order to ensure the safety of Jews in Germany."

The chief rabbi added he intended to contact the Berlin government himself to discuss the matter.

Rabbi of the Berlin Jewish community Yehuda Teichtal lent his support to Rabbi Lau, saying, "Hiding and disavowing one's Jewish identity is not the solution."

"We should keep walking as proud Jews while simultaneously doing everything to fight anti-Semitism," the Berlin rabbi added.

A Foreign Affairs Ministry official told Ynet Tuesday, "We cannot interfere with the judgment of the head of the community, but it is odd and sad that a call to obscure religious characteristics is coming out of Germany, of all places."

"It's a sad testament to Jewish communities' grim lot in Europe, as they are under a concrete threat due to belligerent Muslim anti-Semitism,' he added.
'Do not forego religious markings'
Chairman of the European Jewish Association (EJA) Rabbi Menachem Margolin called on Josef Schuster, the head of Germany's Central Council of Jews, to recant his statement calling on German Jews to remove skullcaps in public.

"I have no doubt that the declaration stems from Mr. Schuster's sincere concern for the safety of the Jews—a concern that I naturally share in light of the growing anti-Semitism in Europe—but unfortunately he is mistaken in the cure for the serious problem," Rabbi Margolin added.

"Not wearing a skullcap due to fear of anti-Semitism is in fact the fulfilment of the vision of anti-Semites in Europe," he stressed.

Leaders of Jewish communities and organizations in the continent, EJA's leader added, should insist that each national government act to preserve its citizens' safety and, no less so, to commence education and preventative measures.

"However, we must not agree, let alone encourage the Jews—or any other religious or ethnic group—to give up their religious attributes," Margolin appealed, noting that calling on Jews to do so may lead to the perception that those who still wear skullcaps are provocateurs and "deserving of a response."

Earlier Tuesday, Germany's main Jewish leader said he would advise people visiting big cities against wearing Jewish skullcaps, following a street assault last week on a young man wearing one.

The attack in Berlin, in which a 19-year-old Syrian asylum-seeker is a suspect, added to growing concern in Germany about anti-Semitism.

The Berlin attack that sparked the outage (צילום: הפורום היהודי נגד אנטישמיות)

Josef Schuster, the head of Germany's Central Council of Jews, told broadcaster Radioeins Tuesday that wearing a skullcap is right in principle, but that he was advising individuals "against showing themselves openly with a kippah in a big-city setting in Germany, and wear a baseball cap or something else to cover their head instead."

Schuster suggested three years ago that Jews shouldn't wear skullcaps in areas with large Muslim populations. But he stressed there's increasing anti-Semitic sentiment among non-migrants.
The Berlin 'kippah march'
Berlin's Jewish community will hold a "kippah march" Wednesday following the assault of Adam Arush, the 21-year-old Israeli Arab who was attacked while wearing a skullcap as an experiment. The precession will take place next to the Jewish community building.

The Jewish community plans to hand out thousands of kippahs to everyone interested in expressing solidarity with the Jewish community in Germany by wearing them proudly across the city.

Head of the Jewish Community in Germany, Joseph Schuster, Berlin Mayor Michael Müller and the Jewish community leader Dr. Gideon Yaffe will speak during the kippah march.

The commissioner recently appointed by the German government to coordinate government activities against anti-Semitism, Felix Klein, has also showed his support of the event.

The head of the Charlottenburg neighborhood in Berlin expressed his solidarity with the Jewish community, writing on his Facebook page that he planned to wear a kippah he had bought in Jerusalem several years ago even though he was not going to be in town on the day of the march.

Frankfurt Deputy Mayor Uwe Becker called on the city's residents to also wear a kippah on Wednesday and show their support of the Jewish community, in addition to posting his own photo wearing a kippah.

Arush said in an interview to German television that he had worn the kippah as an "experiment" following a conversation he had had with a Jewish friend residing in Berlin.

"My friend told me that wearing Jewish symbols in public is not safe in Berlin," Arush explained.

The 21-year-old asked his girlfriend, who was with him during the attack, to call the police. The Berlin Police Department confirmed receiving a report of the incident and launched an investigation. Arush gave the police the video he had filmed, showing the assailant's face.

The video shows the Muslim attacker hitting him with a belt and yelling "Jew" at him in Arabic.