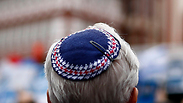 Illustration
Photo: Reuters
Germany's main Jewish leader says he would advise people visiting big cities against wearing Jewish skullcaps, following a street assault last week on two young men wearing them.

The attack in Berlin, in which a 19-year-old Syrian asylum-seeker is a suspect, added to growing concern in Germany about anti-Semitism.

Anti-Semitic incident (צילום: הפורום היהודי נגד אנטישמיות)

Josef Schuster, the head of Germany's Central Council of Jews, told broadcaster Radioeins Tuesday that wearing a skullcap is right in principle, but that he was advising individuals "against showing themselves openly with a kippah in a big-city setting in Germany, and wear a baseball cap or something else to cover their head instead."

Schuster suggested three years ago that Jews shouldn't wear skullcaps in areas with large Muslim populations. But he stressed there's increasing anti-Semitic sentiment among non-migrants.

Berlin's Jewish community said they were organizing a "kippah march" Wednesday following the assault of a Adam Arush, a 21-year-old Israeli Arab wearing a skullcap in the German capital last Tuesday. The precession will take place next to the Jewish community building.

The Jewish community plans to hand out thousands of kippahs to everyone interested in expressing solidarity with the Jewish community in Germany by wearing them proudly across the city.