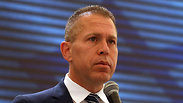 Minister Gilad Erdan
Photo: Ohad Zwigenberg
Minister advocates exacting 'price' on Hamas for incendiary kites
Speaking in interview with Ynet, Gilad Erdan says Hamas should be forced to pay price for any damaging objects, including burning kites, that are launched from Gaza to Israel, calls for treating their operatives as 'terrorists in the middle of a terror attack.'
Public Security Minister Gilad Erdan suggested Sunday that the phenomenon of incendiary kites being flown by Palestinians from Gaza into Israel could be brought to an end if the ruling Hamas terror group is forced to "pay the price" for using them.

"If Hamas starts to pay the price for what leaves its territory, I believe that this phenomenon will stop. All terror is terror and we must treat its perpetrators and operatives as terrorists," the Likud minister said in an interview with Ynet.

"Whoever assembles and sends burning kites with Molotov cocktails, a camera or anything else intended to land in Israeli territory and to cause damage, should be treated as a terrorist in the middle of a terror attack," he argued.

The kites have been put to effective use in recent weeks as the new, primitive weapon has so far eluded the IDF's high-tech capabilities, burning hundreds of square meters of Israeli farmland.

Erdan's statements were echoed by those of Finance Minister Moshe Kahlon earlier on Sunday. "There is a solution to incendiary kite terrorism, which is terrorism in every respect. Ramallah starves Gaza, closes its taps and their anger is taken out on us," he said during a tour of the Gaza border region.

Kahlon, who leads the Kulanu party, also advocated for making punishment for Palestinians in Gaza who fly the burning kites into Israel as stringent as that of those who launch rockets from the strip.

Minister Erdan also addressed Prime Minister Benjamin Netanyahu's expected visit to Russia, during which he will meet with President Vladimir Putin and join him for the annual march marking the Soviet victory over Nazi Germany, after which they will convene in the Kremlin.

"It is a huge honor that the prime minister of Israel meets so many times with the head of one of the most important powers in the world. It reflects closeness and mutual respect," Erdan said. "There is no doubt that we have extremely significant interests in Syria, the most important of which is to prevent Iranian entrenchment. It is a good thing that the prime minister is going again to reiterate that there is no compromising on this issue."

Regarding US President Donald Trump's upcoming May 12 decision on whether or not to withdraw from the Iranian nuclear deal signed in 2015, Erdan predicted that a decision to remain in the deal would hinge on a radical change to the agreement that served as a hallmark of former president Barack Obama's foreign policy.

"I think if there isn't an extremely fundamental change to the agreement, President Trump will pull out." he said. "If the US withdraws from the agreement now, unlike during Obama's term when Israel was alone, we will stand alongside the strongest military superpower in the world."

Erdan also touched on the Knesset vote last Monday which transferred authority from the government to the cabinet—and in some case to the prime minister and defense minister only—to declare war and to launch military operations.

""In 99.9 percent of the situations, as I understand it, this clause should not see actual use since it will be possible—based on intelligence that the State of Israel has—to know that we are preparing for a wide-scale operation and there will therefore be time to convene the cabinet."

"There could be an action or need to thwart in a military attack some action initiated by the enemy against us and therefore an immediate decision must be made," he concluded.