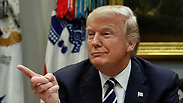 Trump hands nuke deal 'last chance,' waives Iran sanctions
President Trump to extend sanctions relief on Iran as part of nuclear deal; president will, however, provide both Congress and US's allies with deadline to improve deal, or he might pull out; on immigration, Trump wonders why US should allow immigrants from African 's**thole countries' to come in.
US President Donald Trump said on Friday he would waive nuclear sanctions against Iran for the last time to give Washington and its European allies a chance to fix the "terrible flaws" of the 2015 nuclear deal.

But he also made clear these waivers will be the last, unless what he calls serious flaws in the agreement are addressed by the spring.

A senior administration official said Trump wants the deal strengthened with a follow-on agreement in 120 days or the United States will unilaterally withdraw from the international pact.

Trump had faced a Friday deadline to decide on whether to waive the sanctions. A decision to withhold a waiver would have effectively ended the deal that limits Iran's nuclear program.

While Trump approved the sanctions waiver, the Treasury Department decided to impose new, targeted sanctions against 14 Iranian entities and people.

"This is a last chance," Trump said in a statement. "In the absence of such an agreement, the United States will not again waive sanctions in order to stay in the Iran nuclear deal. And if at any time I judge that such an agreement is not within reach, I will withdraw from the deal immediately."

Two senior Trump administration officials told Reuters on Wednesday that the president had privately expressed reluctance to heed the advice of top advisers recommending he not reimpose the suspended sanctions.

Trump has argued that his predecessor, President Barack Obama, negotiated a bad deal for the United States in agreeing to the nuclear accord.

Hailed by Obama as key to stopping Iran from building a nuclear bomb, the deal lifted economic sanctions in exchange for Tehran limiting its nuclear ambitions. It was also signed by China, France, Russia, Britain, Germany and the European Union.

Trump had come under heavy pressure from European allies to issue the sanctions waiver.

"I hereby call on key European countries to join with the United States in fixing significant flaws in the deal, countering Iranian aggression, and supporting the Iranian people," Trump said in the statement. "If other nations fail to act during this time, I will terminate our deal with Iran."

Iran says its nuclear program is only for peaceful purposes. It has said it will stick to the accord as long as the other signatories respect it, but will "shred" the deal if Washington pulls out.

The US Congress requires the president to decide periodically whether to certify Iran's compliance with the deal and issue a waiver to allow US sanctions to remain suspended.

Trump in October chose not to certify compliance and warned he might ultimately terminate the accord. He accused Iran of "not living up to the spirit" of the agreement even though the International Atomic Energy Agency says Tehran is complying.

Hardliners on Iran in the US Congress have called for the reimposition of the suspended sanctions and an end to the nuclear deal, while some liberal Democrats want to pass legislation that would make it harder for Trump to pull Washington out without congressional consent.

Trump and his top advisers have been negotiating with US lawmakers on Capitol Hill to try to change sanctions legislation so that he does not face a deadline on whether to recertify Iranian compliance with the nuclear deal every 90 days.

Senate Foreign Relations Committee Chairman Bob Corker has been working on amending a US law to include "trigger points" that if crossed by Iran would automatically bring back US sanctions.

Earlier Thursday, Treasury Secretary Steve Mnuchin said he expected President Trump to impose new sanctions on Iran.

"I am expecting new sanctions on Iran," Mnuchin told reporters. "We continue to look at them. We've rolled them out and I think you can expect there will be more sanctions coming."
Trump: Why allow immigrants from 's**thole countries'?
Apart from Iran, President Trump was also dealing with immigration policy Thursday, using bluntly vulgar language to question why the US would accept more immigrants from Haiti and "s**thole countries" in Africa rather than places like Norway, as he rejected a bipartisan immigration deal, according to people briefed on the extraordinary Oval Office conversation.

Trump's contemptuous description of an entire continent startled lawmakers in the meeting and immediately revived charges that the president is racist. The White House did not deny his remark but issued a statement saying Trump supports immigration policies that welcome "those who can contribute to our society."

Trump's comments came as two senators presented details of a bipartisan compromise that would extend protections against deportation for hundreds of thousands of young immigrants—and also strengthen border protections, as Trump has insisted.

The lawmakers had hoped Trump would back their accord, an agreement among six senators evenly split among Republicans and Democrats, ending a months-long, bitter dispute over protecting the "Dreamers." But the White House later rejected it, plunging the issue back into uncertainty just eight days before a deadline that threatens a government shutdown.

Dick Durbin of Illinois, the Senate' s No. 2 Democrat, explained that as part of that deal, a lottery for visas that has benefited people from Africa and other nations would be ended, the sources said, though there could be another way for them to apply. Durbin said people would be allowed to stay in the US who fled here after disasters hit their homes in places including El Salvador, Guatemala and Haiti.

Trump specifically questioned why the US would want to admit more people from Haiti. As for Africa, he asked why more people from "s**thole countries" should be allowed into the US, the sources said.

The president suggested that instead, the US should allow more entrants from countries like Norway. Trump met this week with Norwegian Prime Minister Erna Solberg.

Late Thursday, Trump was pushing for "a Great Wall" and criticizing Democrats' stance on immigration, highlighting the difficulties for any negotiations.

"The Democrats seem intent on having people and drugs pour into our country from the Southern Border, risking thousands of lives in the process. It is my duty to protect the lives and safety of all Americans," he said in a late-night tweet. "We must build a Great Wall ..."

Asked about the earlier remarks insulting other countries, White House spokesman Raj Shah did not deny them.

"Certain Washington politicians choose to fight for foreign countries, but President Trump will always fight for the American people," he said.

The Associated Press and Reuters contributed to this report.