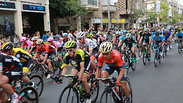 Giro d'Italia cyclists on Saturday
Photo: Dana Kopel
Haredi lawmakers remain mum on Giro d'Italia's Shabbat leg
As international bicycle race reaches its second leg, going from Haifa to Tel Aviv during Shabbat, Haredi MKs were conspicuous by their absence and silence; 'To secular eyes it seems like hypocrisy,' says Haredi journalist; 'It happens that things escape notice,' retorts Haredi parliamentarian.
Haredi lawmakers were noticeably silent in the face of the mass and publicized desecration of Shabbat that took place Saturday when the Giro d'Italia bicycle race's second leg took riders—and fans—from Haifa to Tel Aviv.

Prime Minister Benjamin Netanyahu and his wife cheered on, the Tourism and Jerusalem Affairs Ministries budgeted and thousands of policemen provided security, with nary a peep from the Haredi parties.

Haredi public figures and the sector's media outlets tried to make sense and unpack their silence the following day, examining whether a blind eye was turned.

Several months after threatening to dismantle the coalition due to infrastructural train works or the opening of private supermarkets in Tel Aviv, the heads of the Ashkenazi United Torah Judaism (UTJ) party and the Sephardic Shas party kept silent opposite one of the biggest international sporting events Israel has ever hosted—whose most important part took place over the weekend.

While some within Israel's Haredi populace defended them, saying they did not foresee the breadth of Shabbat desecration in real-time, others criticized them for abandoning their watch over the Jewish day of rest.

Grand Rabbi of the Vizhnitz rabbinical dynasty Rabbi Yisroel Hager, the leader of one of Israel's most prominent courts, spoke out against the race Saturday, claiming with the benefit of hindsight that the sector's Knesset representatives should have used their parliamentary power to exert more pressure to prevent the desecration from happening.

Speaking about the prime minister and his coalition, Rabbi Hager said they were "acting according to their own interests, and are attentive to our requests only when it's worth their while."




The grand rabbi, considered the patron of UTJ parliamentary group chairman MK Menachem Eliezer Moses, claimed that no one in the secular public would have assented to such a desecration of Independence Day, for instance, and that therefore "we must not remain silent in the face of injuries to that which is holy to Heaven."

The Vizhnitz rabbi further lamented that "thousands of Jews participated and watched this race, such immense sums were invested in holding it and masses of security guards were forced to desecrate Shabbat because of it."

Those who desecrate Shabbat, the rabbi reminded his audience, were "akin to complete gentiles."

The hands of Haredi MKs were, apparently, tied. After instigating coalition crises surrounding the train and supermarkets issues, and notching impressive accomplishments as it relates to religion and state matters, Prime Minister Benjamin Netanyahu made it clear that enough was enough, prompting MKs Aryeh Deri, Yaakov Litzman and Moshe Gafni to commit to refraining from sponsoring similar bills.

It could be said, in fact, that Haredi lawmakers are careful not to fritter away what political and public capital they have left, instead saving it for the next round in the ongoing battle for draft exemptions.

Not all Haredi voters are prepared for compromises on such matters, however, as the equation created by politicians with Shabbat desecration on one end in return for army service exemptions for yeshiva students in the long run is not necessarily perceived as legitimate in their eyes.

For the Haredi parties' base, any Shabbat desecration is cause enough for crisis. These voters were targeted by the headlines of the official UTJ paper in the past few days, including Sunday morning, decrying the race and praising MKs that supposedly tried to stop it.
'It happens that things escape notice'
Speaking on Haredi radio station Kol BaRama Sunday morning, MK Moses said that, "In the midst of public work, it happens that certain things escape notice" and vowed to discuss the matter during the weekly parliamentary group meeting he chairs.

A senior UTJ official said the MK merely wished to voice his obligatory protest, and choosing to do so at a low volume was not coincidental.

"Our silence may not appear to make sense, but it's clear there wasn't a real possibility of getting the race canceled. It's fighting windmills," the official said. "We were promised it was a one-time thing, a private rather than governmental initiative with the budget being set internationally and not by us, so we didn't have a choice."

The official then said the race was similar to other things the Haredi parties did not like, but still did not threaten to dismantle the coalition over.

Journalist Yisrael Cohen of Kikar HaShabbat, who was the sole voice raised against the Giro's mass Shabbat desecration last week, was also of the opinion that "Haredi representatives did not wish to get up in arms again before the draft bill."

He did agree about the optics of the matter, saying, "To secular eyes, it's hypocrisy to cry out over the train and supermarkets but remain quiet over a race watched by a billion people."

"The differences between officially-endorsed state Shabbat desecrations and a private event is a nuance a secular person cannot comprehend, and rightfully so," he explained.

Public Security Minister Gilad Erdan defended his government's actions in a Ynet studio interview Sunday morning. "I think sporting and cultural events have been a part of the status quo framework for dozens of years," he iterated.

"I'm extremely proud that the Giro is leaving Europe on Israel's 70th anniversary, and this event is making a significant contribution to the country's image as a normal country, in contravention of the manner in which our enemies would like us to be perceived."

Lauding the Haredi inaction, he said it was good the parties did not turn the race into "another polarizing struggle, because they understood it was well within the boundaries of the status quo."

Tourism Minister and fellow Likud member Yariv Levin echoed his statements, saying, "The name of the game here is dialogue and maintaining the status quo. Sporting events were always held on Saturdays and it was clear to everyone, including the Haredi lawmakers, that since the event could not be rescheduled—as it was dictated by the Italian Giro—there was no sense in trying to foil it."