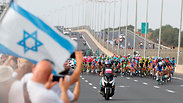 Giro d'Italia between Haifa and Tel Aviv
Photo: AFP
Cyclists from around the world began zooming through the streets of Be'er Sheva on Sunday afternoon as the 101st Giro d'Italia entered its third day, after kicking off on Friday in Jerusalem and continuing Saturday from Haifa down the Mediterranean coast to Tel Aviv.

It was the first time ever that the second largest bicycle competition and one of the most popular sporting events in the world was launched in Israel.

Race in Tel Aviv (צילום: רון בן ישי,צחי שדה ורתם כנעני)

After pedalling their way through Israel's largest southern city in the Negev desert, the cyclists will continue via Mitzpe Ramon to the holiday resort city of Eilat at Israel's southern tip, while roads along the route will be blocked for several hours as they race for the finish line.

With the launching of Sunday's leg at 12:30pm from the Be'er Sheva Municipality building, the cyclists embarked on a 229-kilometer (143-mile) route and are scheduled to arrive in Eilat at 6pm. On Monday, the competitors will be given a day to rest, before they resume the race on Tuesday in Italy.


Hundreds of policemen, Border Policemen and organizational staff will be spread along the stretch until the conclusion of the race.

On Friday, thousands of spectators lined Jerusalem's streets to watch the first time a Grand Tour cycling race has ever been held outside Europe. The cyclists passed Israel's parliament, Supreme Court, the Israel Museum and the Hebrew University on their route through the city.

The historic opening of the race concluded just as the previous one ended, with defending champion Tom Dumoulin grabbing the overall lead in an individual time trial. Last year, he entered the final stage in Milan in fourth but surged to victory

Jerusalem's opening leg was named in honor of Gino Bartali, a three-time former Giro champion who in 2013 was posthumously bestowed Israel's highest honor given to non-Jews who risked their lives to save Jews during World War II.

On Saturday, the second leg of the race stretched 167 kilometers (104 miles) down the Mediterranean coast from Haifa to Tel Aviv. Some 6,000 spectators packed into the Sammy Ofer Stadium to witness the launch at 1:50pm.




Tel Aviv witnessed heavy traffic throughout Saturday afternoon while 176 cyclists took over the roads and police blocked access for vehicles.

Thousands of Israelis fanned out on the streets to witness the cyclists whizz past, among other locations, the nightlife hubs of Ibn Gvirol street and Rothschild Boulevard as victory in the second leg of the race was claimed by Italy's Elia Viviani.