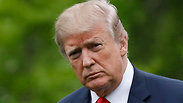 US President Donald Trump
Photo: AFP
WASHINGTON—There has been so much noise surrounding Iran and the nuclear agreement, that we haven't been able to listen to the most important thing in the past few days—the signs.

Since signing the nuclear deal, Iran hasn't violated a single article of the agreement. This is being said not only by IAEA inspectors, but by Israeli security officials as well. This is the only fact President Donald Trump should have considered when deciding whether the United States should walk away from the deal, a move the Iranians say will immediately free Iran of its obligations to shelve its nuclear weapon programs.

Clearly, we would have been better off with a more extensive agreement, forcing Iran to halt its ballistic missile program and stop arming and inciting terror. But that's not the issue: The agreement was signed to stop Iran from having military nuclear ability. And this goal has so far been achieved by the agreement.

Trump has spread several lies in recent days, in an attempt to create a proper setting for a withdrawal from the agreement. He said, for example, that the US had sent Iran billions of dollars in cash in briefcases. That's a lie. The US transferred money that belonged to Iran and had been frozen under the sanctions. Since the West wouldn't let Iran create a banking system or credit card companies, the money could only be transferred to Iran in cash.

Another fib: Trump stated that in seven years from now, once the agreement expired, Iran would be able to produce a nuclear weapon. The agreement actually binds Iran under a strict supervision regime for decades, and this is understood by anyone who read all 150 pages of the agreement—like I did.

Trump paved his way to the top through lies. The Washington Post appointed a special team to look into all the president's lies and discovered that he lies six times a day on average. A total of 3,001 lies and deceptions in 466 days. Nevertheless, he is thriving among his fans. A poll conducted by scientists from two leading universities, MIT and Carnegie Mellon, reveals that his voters don't mind that he lies. On the contrary, they find that it even increases his charm and makes him "authentic."

Telling the truth is a norm. Trump has broken this norm just like he has broken other norms, and that's what they like about him: A leader who is breaking the systems they wanted to kick. They don't care about the truth. They want the opposite of everything that existed. And it's not just his base that isn't fleeing the ship—most Americans see no problem with the fact that the president lies and see it as something they can live with.

And when the leader lives in an imaginary reality comprised of all his lies, he is unable to see the important signs. He applauded Prime Minister Benjamin Netanyahu after his presentation not because of the details it included (which didn't expose an Iranian violation of the agreement either), but because he saw the show as a boost to his ego. "See, I've been 100 percent right," he responded. And Trump enjoys being right, just like he enjoys flattery.

The nuclear agreement's architects saw the danger: They realized that if they failed to stop Iran through diplomacy, it would make huge steps towards a nuclear weapon. They also realized, based on intelligence reports, that a military attack on Iran would entail many victims. A moment before the entire region deteriorated into chaos and a nuclear arms race, former US President Barack Obama led to the agreement. And that's precisely why Trump wants to cancel it now: His obsession to cancel all his predecessor's achievements.

If missiles hit Israel's cities or American targets in the region, Trump hinted last week, he will launch a fire and fury operation against Tehran. He can prevent this nightmare if he stops lying to himself and to us, and if he stops using an Iran strategy which is a dangerous mixture of telling fibs and sowing fear.