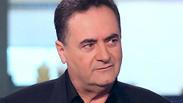 Intelligence Minister Yisrael Katz
Photo: Avi Mualem
Katz implies Israel behind attack on missiles near Damascus
Amid Iran's threats to hit Israel, Intelligence minister says 'we're working to locate and prevent attacks in advance,' adding that 'only strikes now, today, could prevent violence and wars tomorrow. The Iranians don't understand any other language,' stressing, however, that 'Cabinet's strategy is to prevent war.'
Transportation and Intelligence Minister Yisrael Katz implied Wednesday morning that the IDF was behind an attack south of Damascus the night before reportedly targeting missiles aimed at Israel.

While he came short of admitting Israeli responsibility, Katz told Ynet that Iran "threatened—both in public and through messengers—to hurt Israel. We take this very seriously. We both defend soldiers and civilians and act through intelligence and all of our capabilities to locate and prevent (attacks) in advance."

Katz also asserted that "only strikes now, today, could prevent violence and wars tomorrow. The Iranians don't understand any other language."

He explained that "the times (the Iranians) folded in the past, in 2003 and 2015, were when facing the threat of an American invasion and the pressure of sanctions. This is where we need to play a central and leading role as part of the perception of making Iran fold and leave this region."

Katz further noted that "If such a thing happens as Iranian capabilities being hit in Syria, the same capabilities they sought to launch here, it means we're working on all levels."

Nevertheless, the intelligence minister stressed that "the Cabinet's strategy, under the leadership of the prime minister, is to prevent war."

"We don't want to conquer Syria," he added. "We want the Iranians to be forced to make a decision that they are strategically withdrawing from Syria."

Syria media outlets reported a strike on a base in the Al-Kiswah area south of Damascus late Tuesday. It was further reported the strike's target were missiles trained at Israel.

The base, Arab media reported, housed Iranian forces and was attacked by Israel in the past.

The Syrian Observatory for Human Rights said on Wednesday the strike had killed at least 15 people, including eight Iranians.

"The number increased to at least 15, including at least eight Iranians, killed by the missile strikes," the British-based Observatory reported.

A senior Syrian army official was quoted by the Reuters news agency as saying that, "Israel targeted a Syrian army position south of Damascus."

Increased Israeli Air Force traffic was also mentioned in the skies over Israel's northern frontier in unconfirmed reports.

The possible attack came after the IDF instructed to open public bomb shelters in the Golan Heights amid Israeli reports of "irregular Iranian movements" in Syria and the ongoing fear of an Iranian strike at Israel in retaliation for the US withdrawal from the nuclear deal and the airstrike on the T-4 Airbase near Homs last month.

In his interview with Ynet, Katz also discussed the red line Israel had set "to prevent the establishment of Iranian military presence in Syria, which will endanger us now and certainly in the future."

"The red line, the strategy behind it, is to act in order to get Iran out of Syria without crossing the threshold of war," Katz explained. "This is also why the prime minister is going to see the Russian president today, to prevent that friction."

"There's cooperation with the US, and mostly our forces, our readiness, our intelligence knowhow to find things and thwart them in advance, as well as the ability to deter and act and active defense," he went on to say. "We're dealing with this, no one else will do this direct work for us. We need to deter Hezbollah, we need to take care of Iran in Syria."

Nevertheless, Katz sought to alleviate concerns of a full military conflict on the northern border, saying "There's no fundamental threat to the State of Israel. There's a certain Iranian capability in Syria, which we're trying to stop and not allow to increase—not bring in more missiles, militias and other measures to hurt our aerial capabilities."