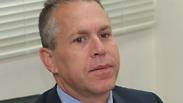 Minister Erdan
Photo: Motti Kimchi
Erdan calls to resume targeted killings of Hamas leaders
'We need to go back to targeted killings, and Hamas leaders need to go back to hiding underground and fearing for their lives,' the public security ministry says. 'Yahya Sinwar and others have been saying they're willing to be killed near the border fence—let them.'
The targeted killing of Hamas leaders is part of the solution for the situation in the Gaza Strip, Public Security Minister Gilad Erdan asserted on Tuesday morning in an interview with Ynet.

"It's time for the heads of Hamas to pay a personal price for organizing these terror attacks," Erdan said. "The heads of Hamas, Yahya Sinwar and others, have been talking about being willing to be killed near the border fence—let them."

"We need to go back to targeted killings, and they need to go back to hiding underground and fearing for their lives, not organizing the masses to carry out terror attacks," the minister added.

Erdan, a member of the Security Cabinet, said the political ranks "are not yet managing, on a tactical level, all of the military operations the IDF carries out," which is why the proposal to resume assassinations of Hamas leaders hasn't been discussed yet.

He stressed, however, that "I'm not representing anyone else's position, these are my own views."

After 60 Palestinians were killed on the Gaza border on Monday, Erdan said security forces are "preparing for a record day in the protests and clashes that Hamas is trying to create on the border."

"From the start, Hamas's plan has been to maximize the damage and terror attacks on Nakba Day," the minister charged. "As we know, there's a UN Security Council meeting convening today at the request of Kuwait. I believe Hamas will try to create a situation in which during the Security Council meeting, pictures of violence will be coming out of the border fence area. So our preparations are very extensive, including reinforcing IDF troops with other forces, including from the Public Security Ministry."

"We're facing a murderous terror organization," Erdan stressed. "It was already said yesterday: Hamas wants as many casualties at the border as possible and the IDF and Israel want as less as possible. And this is the truth we need to explain around the world, with all the difficulties that entails."

Erdan explained that Hamas "is in a crisis and wants to divert public attention in Gaza from its failure in managing their everyday lives. It can't use the Egyptians to do that, as they closed the Rafah crossing. It also can't use the Palestinian Authority to do that, as they stopped salaries and prevented the transfer of goods or energy or resources to the strip. So Hamas is doing this by focusing the incitement and rage against the State of Israel, it's the easiest thing to do."

In the wake of world media headlines, which reported on "massacre" and "carnage" in Gaza, Erdan said that "photos like that will always overpower any other argument, just as it may be."

"In this context, there is no other choice," he continued. "We discussed all of the possibilities and all of the scenarios in the Cabinet. If, G-d forbid, the masses breach the border fence, you have to understand that within a minute or two of running they get to Israeli communities—thousands of them, including terrorists among them who are planting explosive devices and carrying out murderous attacks. The IDF cannot allow this. And that is why its mission is to prevent the crossing of the border in any way required."

Erdan also insisted there was no connection between the opening of the US Embassy in Jerusalem and the rioting on the Gaza border.

"US President Trump's rivals in Europe and in other places are trying to connect the opening of the embassy to the rioting and terror attacks from Gaza. You have to remember Hamas set Nakba Day for these riots many months back, with no connection to the date set for the embassy opening. The two are not connected," he said.

"It's obvious that those trying to inflame the tensions or encourage lone wolf attacks or drag Judea and Samaria and Jerusalem into the rioting are trying to make this false connection, but this connection doesn't exist."

The minister rejected Israeli responsibility for the dire living conditions in the Gaza Strip, saying, "I'm very sorry, I was elected by the citizens of Israel, and I am obligated to them. I'm not supposed to find solutions to impossible situations when Palestinians elect a terror organization to run their lives, and later this terror organization is also the one to set fire to crossings through which the population receives civilian aid and invests all or most of the resources it get in terror tunnels, missiles and rockets."

"We as a state do all we can to show that we're willing to let goods in, willing to let in any humanitarian aid from the world or contributions from donor countries to establish civilian infrastructure there. But we won't allow this to happen at the expense of our citizens' security," he added.

Justice Minister Ayelet Shaked, also interview by Ynet on Tuesday, had a similar message to the Gaza rulers. "Hamas needs to know we will do whatever it takes to stop the violence they're spreading, and if some things are not enough—we can definitely take it up a notch," she said.

She put the blame for the death of 60 Palestinians on Monday squarely on Hamas's shoulders. "Hamas is using people intentionally to delegitimize Israel in the world and to strengthen itself politically. It is sacrificing its people for political ends. If the IDF hadn't acted with such determination, there would've been more dead, because they would've succeeded in their plot and then this entire region would've been dragged into an escalation," Shaked claimed.

Shaked also blamed Palestinian Authority leader Mahmoud Abbas, "who is trying to pressure Hamas politically and asking us not to provide power to the Gaza Strip."

Elior Levy, Attila Somfalvi and Alexandra Lukash contributed to this story.