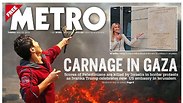 World press covers Gaza 'carnage,' 'bloodbath'
Front pages of British papers blast Israel, IDF for actions on Gaza Strip Monday culminating in 59 Palestinian deaths; Daily Mail calls riots a 'bloodbath,' while Metro deems them 'carnage'; New York Daily News, meanwhile, says '55 slaughtered but Ivanka all smiles.'
Papers published around the world Tuesday spoke of "Gaza carnage" and conflated it with the opening of the new US Embassy in Jerusalem, following the bloodiest single day in the isolated enclave since Operation Protective Edge in 2014, with 59 moralities and thousands wounded.

While leading with the royal wedding, the Daily Mail called the Gaza clashes a "bloodbath."




The Independent directly linked Monday's two events.

As did The Guardian.

And CNN.

The British Metro spoke of "Gaza carnage."

The Times and Daily Telegraph's headlines.

New York-area tabloid Daily News mocked US President Donald Trump's daughter Ivanka and said Palestinians were "slaughtered."

Fox News reported the New York Times was biased in its coverage of the riots.