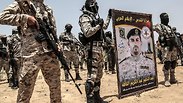 Funeral of a terrorist in Gaza
Photo: EPA
The drone that infiltrated into Israeli airspace before being shot down by the IDF near the northern region of the Gaza border last week was carrying explosive materials, according to an examination of the device.

In the latest violent incident between the Gaza Strip and Israel, IDF tanks fired at an observation post in the southern Gaza Strip on Sunday morning. According to Palestinian sources, two people—likely members of the Palestinian Islamic Jihad—were killed in the strike, and one person was seriously wounded, who was later said to have succumbed to his wounds.

The the incident, the IDF has issued a statement to Islamic Jihad warning it not to "play with fire" and is working to prevent any revenge attacks which have been promised by the group.

Since Operation Protective Edge in 2014, Islamic Jihad has developed its own independent system within Gaza and made strides in its military capabilities. Moreover, the group has proven itself to be a bona fide threat to Israel, which was demonstrated by the fact that they were responsible for digging for the first time a terror tunnel from Gaza which succeeded in penetrating into Israeli territory.

The IDF Spokesperson's Unit confirmed last November that the Southern Command carried out a controlled detonation aimed at destroying the terror tunnel which was in the process of being built. The tunnel was located near the border fence with Gaza, near the South Gaza city of Khan Yunis.

In November last year, between 10 and 12 mortar shells were fired at an IDF outpost north of the Gaza Strip by the Palestinian Islamic Jihad, prompting retaliation from the army.

The shells followed earlier gunfire aimed at the outpost. The 10-12 shells that were fired fell in open areas nearby the outpost, and no one was hurt.

On Saturday, the army neutralized the explosive device placed on the border fence—which it said was intended to harm Israeli forces operating in the area—with a controlled detonation, launching the attack just a few hours later.

Following the attack, an Islamic Jihad spokesperson said the terror organization "knows" how it will respond to "Israel's dangerous escalation" and stressed that they see such a response to be well within their right.