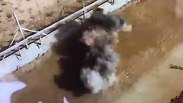 The controlled detonation of the explosive charge
Photo: IDF Spokesperson's Unit
IDF Spokesperson Ronen Manelis on Sunday warned the Palestinain Islamic Jihad not to "play with fire" after the terror organization threatened retaliation over the IDF's Saturday attack against Hamas posts in Gaza, which claimed the lives of three of its members.

In a post he published on Facebook, Manelis reiterated that the strike targeted a Hamas military complex, and that it was carried out in retaliation to Palestinians infiltrating into Israel earlier in the day to plant an explosive charge along the border.

The controlled detonation of the explosive charge (צילום: דובר צה"ל)

He concluded by stressing that the IDF takes every threat seriously, writing, "He who plays with fire puts himself in danger."

In a section in the post written in Arabic, the IDF Spokesperson added that the IDF sees Hamas as the sovereign organization in the Gaza Strip and as responsible for everything that happens in it, including along its border with Israel.

While not mentioned at the time of the attack, repeated attempts to damage Israeli security infrastructures near the border under cover of the protests Hamas organizes may have also served as backdrop for the strike.

On Saturday, the army neutralized the explosive device placed on the border fence—which it said was intended to harm Israeli forces operating in the area—with a controlled detonation, launching the attack just a few hours later.

Following the attack, an Islamic Jihad spokesperson said the terror organization "knows" how it will respond to "Israel's dangerous escalation" and stressed that they see such a response to be well within their right.