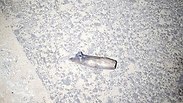 A bullet casing fired from Gaza
Several Sderot structures and vehicles were hit by machinegun fire from the Gaza Strip Monday evening, which triggered a Code Red alarm in Sderot and nearby communities in the Sha'ar HaNegev Regional Council. No casualties were reported.

The machinegun shooting came in the wake of several tense days in the border region, that saw several infiltration attempts by Palestinians followed by IDF retaliatory attacks.

Earlier Monday, the IDF arrested two Palestinian terrorists attempting to cross the security fence in the northern strip.

The Palestinians were found with knives, bolt cutters and an incendiary material on their person. The Israeli soldiers came under fire while the terrorists were being chased. No Israeli casualties were reported and the forces returned fire, killing at least one member of Hamas's military wing while wounding another moderately.

It was reported Sunday that a drone, which infiltrated Israel about a week ago and landed near the fence in the northern strip, was examined by IDF forces and found to have been carrying explosives—but the device failed to detonate.

In another incident, also from Sunday, the army fired tank shells towards an observation post in southern Gaza in retaliation to a charge placed near the fence and secreted away inside bolt cutters.

The IDF's strike killed three terrorists belonging to Palestinian Islamic Jihad, with the army girding itself for a possible revenge action.