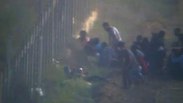 File photo
Photo: IDF Spokesperson's Unit
IDF detains Gaza terrorists attempting to infiltrate Israel
2 terrorists arrested in northern strip as they tried crossing security fence; knives, incendiary material found on their person; force came under fire during chase, returned fire and killed at least one combatant; IDF tank attacks in Beit Lahia in retaliation, reportedly killing 1 Palestinian, wounding another.
An IDF force arrested two Palestinian terrorists Monday afternoon who attempted to cross the security fence in the northern Gaza Strip with the intention of carrying out an attack.

The Palestinians were found with knives, bolt cutters and an incendiary material on their person. The Israeli soldiers came under fire while the terrorists were being chased. No Israeli casualties were reported and the forces returned fire, killing at least one armed Palestinian.

In retaliation for the infiltration, an IDF tank fired at a nearby observation post, with one person killed and another moderately wounded, as per Palestinian reports. It was initially unclear whether the post was manned by Hamas or Palestinian Islamic Jihad.

Monday's arrest marked an operational success for the IDF, after suffering several setbacks throughout the past week. In this instance, a force from the Golani Brigade and the Armored Corps's 7th Division captured the terrorists while they were physically on the fence, later pulling them into Israeli territory to detain them.
Border sector heating up
The border's sector has been something of a pressure cooker recently, with escalating Palestinian protests near the fence. It was reported Sunday that a drone, which infiltrated Israel about a week ago and landed near the fence in the northern strip, was examined by IDF forces and found to have been carrying explosives—but the device failed to detonate.

In another incident, also from Sunday, the army fired tank shells towards an observation post in southern Gaza in retaliation to a charge placed near the fence and secreted away inside bolt cutters.

Neutralization of the drone's explosive device (צילום: דובר צה"ל)

The IDF's strike killed three terrorists belonging to Palestinian Islamic Jihad, with the army girding itself for a possible revenge action.

Since the conclusion of Operation Protective Edge in 2014, the Gaza terror group developed an independent framework and considerable military capabilities, even succeeding in striking at Israel on occasion.

In one such instance, Islamic Jihad terrorists were the first to dig a terror tunnel crossing into Israeli territory.