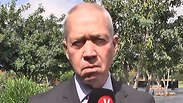 Housing Minister Yoav Galant
Photo: Eli Segal
Galant: Anyone suggesting to retake Gaza should consider Hamas's successor
Despite apparent ceasefire, Security Cabinet to convene to discuss situation Wednesday evening; Kulanu Cabinet member echoes Minister Katz's opinion, says Israel must show restraint and avoid retaking strip; MK Zahalka points finger at Israel for recent conflagration, says no one 'but madman Trump' supports its actions.
Housing Minister and Security Cabinet member Yoav Galant commented in a Ynet studio interview Wednesday on recent statements by other Cabinet members on the possibility of retaking the strip, and said that, "When you want to overthrow Hamas, you should ask yourself who would replace it."

Cautioning against a military takeover of the strip—as other ministers proposed Tuesday—Galant echoed Intelligence Minister Yisrael Katz's assertion and advised anyone entertaining the notion to reintroduce Israeli ground forces into Gaza to take into account what might happen after Hamas's downfall and the price it will exact.

The minister, and former GOC Southern Command, added, "I'm not seeing any volunteers to succeed Hamas—not Egypt, not the Palestinians, not the Europeans and certainly not us."

"If the situation further deteriorates, the gloves will come off and the IDF can do nearly anything it wishes in Gaza. Would that be the right thing to do? No. Before doing that, we need to reach a point where that would have importance and value. That isn't the case now," he elucidated.

Galant also sent a message to Hamas's leaders. "We need a holistic view of things. Israel will focus in the coming years on Syria and the Iranian (presence) there. Hamas is important, but it's a secondary matter. The balance of power is clear and I'll say this clearly: If Hamas makes a mistake, the blood of its leaders will be on their own head."

"There can be no compromise on this. Having said that, I hope we can contain the situation. We have no interest in continued fighting in Gaza," the Kulanu member concluded.

Despite the alleged ceasefire announced by Hamas early Wednesday, the Security Cabinet—of which Galant is a member—will convene in the evening at the IDF's Kirya headquarters in Tel Aviv to discuss the situation.
Bennett: Gaza escalation an Iranian distraction
Galant's fellow Cabinet member, Education Minister Naftali Bennett, visited a school in the Sha'ar HaNegev Regional Council Wednesday, where he spoke of recent conflagrations.

"Escalation on the Gazan side was not coincidental. The mind is Iranian, while the hands belong to Hamas," Bennett claimed.

"Israel is in a focused, consistent campaign against the head of the Iranian octopus, which operates its tentacles in Lebanon, Syria and Gaza to harm Israel. Iran is trying to distract us by manufacturing provocations in Gaza through one of its tentacles," he theorized.

The education minister then afforded the defense establishment his full support. "We will not give away or trade the future safety of residents of the Gaza perimeter or the north in exchange for a temporary calm," he stated.
MK Zahalka: 'Except for madman Trump, entire world denounces Israel'
Meanwhile, in his own interview, Joint List MK maintained his support for a ceasefire while nevertheless blaming Israel for the situation, which he said originated with Israel's "siege" of Gaza.

The IDF's strikes in Gaza were not a "self defense situation as it attempted to be presented, but continued Israeli aggression," he assured.

Regarding the fire from Gaza at Israel, the lawmaker said that "Palestinians must not be dragged to military conflict. I call to continue nonviolent protests. The Palestinian strategy should be to reject military conflict, because that's the field that's convenient for Israel."

Asked how it was possible for Hamas and Palestinian Islamic Jihad to wish for as many casualties as possible on their side while the IDF seemed to do everything to prevent deaths, the parliamentarian said, "The Israeli army is the one killing people and wounding thousands in Gaza. Thousands of bullets have been fired."

"The entire world—except for that madman (US President Donald) Trump, who's a friend of (Prime Minister Benjamin) Netanyahu—denounces what Israel has been doing," he maintained.

Confronted with the fact that both France and Canada denounced the rocket fire from Gaza, as well as the damage done to Israel's sovereignty, Zahalka equivocated that he was referring to the "killing of civilians in nonviolent protests."

"I'm certain the entire world does not agree to the rocket fire—I also think it shouldn't be happening—but the problem is really the continued Israeli violence that has claimed the lives of more than 100 people and wounded thousands. That's what needs to stop."

Itamar Eichner, Elior Levy, Attila Somfalvi and Alexandra Lukash.