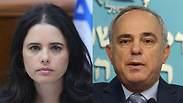 Ministers Shaked (L) and Steinitz
Photo: Gil Yohanan, Alex Kolomoisky
Minister of Justice Ayelet Shaked and Minister of Energy and Water Resources Yuval Steinitz warned Tuesday that should the incessant rocket fire from Gaza continues, Israel will have no choice but to retake the strip by force to rid it of the terror groups holding it hostage.

More than 70 rockets and mortar shells were fired into Israel Tuesday in the biggest attack on Israeli communities since the 2014 Operation Protective Edge. The IDF retaliated by bombarding Hamas military posts in the strip, warning Gaza civilians to stay within reach of a bomb shelter in an effort to avoid collateral damage.

So far, only three Israelis were hurt by the indiscriminant attack, two lightly and one moderately. All three were soldiers stationed close to the Gaza border.

"We are not interested in conquering the entire Gaza Strip, and we hope that we will not be forced to carry out this move," Steinitz said, adding it is the reason why Israel's response should be "sharp and deterrent" so the violence would not "deteriorate into something much bigger."

The minister added that he thinks "the other side is not interested in a confrontation," and so Israel has to take the opportunity to "strike with all its might" so the strip's Hamas ruler would be forced to restrain the Palestinian Islamic Jihad—which the IDF says did most of the firing—from launching any more rockets or mortar bombs.

He stressed, though, that the humanitarian situation in Gaza should be taken into account when considering such action, blaming Palestinian Authority President Mahmoud Abbas for "deliberately putting Gaza in a humanitarian crisis so that the anger and distress will be directed at the State of Israel."

He concluded by saying any intrusion into Gaza would have to be taken after planning out its long-term implications on the strip's residents.

Backing him, Shaked said Israel should go even further and mull a potential retaking of the coastal enclave as a decisive move to topple the Hamas regime.

She said it was only a "miracle" no children were harmed when a mortar shell landed in a kindergarten earlier Tuesday when the barrage from the strip started, saying if ant had did it "could have led to war."

"The response should be very severe, as if blood was spilled here. All the options are on the table, including conquering the strip," she said, echoing Steinitz.