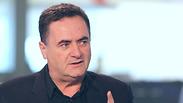 Transportation and Intelligence Minister Yisrael Katz
Photo: Avi Mualem
Minister Katz denies Israel plans to overthrow Hamas
In contravention of fellow ministers, who said option of occupying Gaza Strip was on the table, Intelligence Minister Katz clarifies no such proposal is being entertained; Once they stop shooting, we have no further goals for Gaza operations, he says, adding 'Israel has nothing to do in Gaza.'
Transportation and Intelligence Minister Yisrael Katz rejected Wednesday statements by other members of the coalition—including fellow Security Cabinet member Yuval Steinitz—that the possibility of a military takeover of Gaza was on the table. "There is no proposal for an initiated action to overthrow Hamas in Gaza," he told Ynet in an interview.

In interview of their own, Energy Minister Steinitz said that Israel will have "no choice but to conquer Gaza," whereas Justice Minister Ayelet Shaked added that such an operation was being considered.

"Every minister is entitled to voice his opinion, but Cabinet is currently reviewing no proposal by a certified authority to act in an initiated manner to subdue Hamas in Gaza," Katz said.




"As far as we're concerned, there is no objective of operating inside Gaza. Israel has nothing to do there and does not wish to enter Gaza," the minister insisted.

Asked nevertheless what Israel's policy was, Katz replied that it was one of "red lines. Beyond this policy, I propose another strategic move to allow a better reality vis-à-vis Gaza, to unburden us of civilian responsibility and endow them with civil expenditure not at our expense—while we focus merely on preventing a security threat."

"The IDF is capable of attaining any objective, but there is no offer on the table as an Israeli policy," he clarified.

Following Hamas's announcement of a ceasefire, Katz claimed Israel did not hold negotiations on a ceasefire with the strip's terror groups.

IDF footage of the strikes it carried out in Gaza overnight

"Israel retaliated to violence and fire," he explained. "Our rules of engagement have changed. The policy of zero tolerance to trickles (of rockets) is also being stepped up. I think that now that Hamas, (Palestinian Islamic) Jihad and all of their collaborators are making an inventory of exactly what was hit and at what force, they realize Israel is speaking in a different language."

Asked whether the violence was truly brought to a halt, Katz replied he would not be surprised if Hamas had internalized the message of "zero tolerance" and is therefore seeking a truce.

"The tunnel (which was destroyed on Tuesday) was targeted to preserve deterrence. I think the true heroes of this morning, however, are the south's residents who continue going about their daily routines despite the salvos of rockets," he commended Israelis residing on Gaza's perimeter.

The intelligence minister then iterated his belief that Iran was behind the most recent round of hostilities. "We know Iran is stirring the pot in Gaza. Hamas leader (in Gaza) Yahya Sinwar gave an interview to Arab media last week and extolled his relationship with (Quds Force commander) Qasem Soleimani, the Revolutionary Guard, Quds Force and Hezbollah. They are receiving funding from them."

"Iran is working to envelop Israel in fronts. To wit, Iranian rockets were fired in the last 24 hours," Katz elucidated.

The escalation that began Tuesday lasted all through the night, with successive salvos launched at southern communities triggering Code Red alarms.

Israel's communities on the Gaza perimeter suffered a heavy salvo of fire at around 1am, with a rocket exploding in a stadium located in the southern city of Netivot, causing damage.

Later, multiple Code Red sirens blared in the early morning in communities in the Eshkol, Sha'ar HaNegev and Sdot Negev regional councils, preceded by sirens sounding all through the night in the aforementioned councils as well as at the Bnei Shimon and Merhavim regional councils and the cities of Ashkelon and Netivot.

Footage of the mortar hitting the Netivot municipal stadium (צילום: אורי דוידוביץ')

The IDF Spokesperson's Unit said that following the Code Red sirens, several launches were identified from Gaza towards the Sha'ar HaNegev, Eshkol and Sdot Negev regional councils.

Some of the rockets launched at Sha'ar HaNegev and Sdot Negev were intercepted by the Iron Dome, the army added. The remaining alarms triggered were false alarms.

A residence in one of the Eshkol Regional Council communities suffered a direct hit during a barrage of rockets from. No one was hurt, but damage was caused to the home.

The launches occurred a little over an hour after Hamas's deputy leader Khalil al-Hayya released a statement saying the Palestinian faction will be committed to a ceasefire insofar as Israel will be committed to one.

Despite the alarms blaring throughout the night, authorities decided schools would operate normally in all of the Israeli communities surrounding the Gaza Strip.

Prime Minister Benjamin Netanyahu held an urgent meeting with Defense Minister Avigdor Lieberman, IDF Chief of Staff Gadi Eisenkot, Shin Bet Director Nadav Argaman and other defense establishment officials Tuesday evening to discuss the situation.

The consultations lasted for about three hours, at the end of which a political source reiterated Israel's longstanding position that Hamas was responsible for any fire emanating from Gaza.

"We do not seek escalation, but the IDF will retaliate with force to any fire from the strip, exacting a price," he added.

Before the meeting, Defense Minister Lieberman held a meeting of his own with a handful of security officials at the IDF's Kirya headquarters in Tel Aviv.

Prime Minister Netanyahu sent out a similar message at a conference in the northern city of Ma'alot Tuesday, in which he said, "Israel considered gravely attacks on its communities by Hamas and Palestinian Islamic Jihad."

"The IDF will retaliate strongly to any such attacks," he added. "Israel will exact a heavy price from anyone trying to harm it, and we consider Hamas responsible for preventing these attacks against us."

Itamar Eichner and Goel Beno contributed to this report.