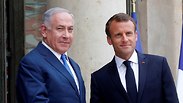 PM Netanyahu and President Macron
Photo: Reuters
Seeking French support, Netanyahu raises alarm over Iran enrichment plan
Day after meeting with Germany's Chancellor Merkel to rally support for radically changing the Iranian nuclear deal, PM Netanyahu attempts to garner French support after Iranian supreme leader tells UN watchdog of 'tentative' plans to produce machinery for enriching uranium.
Prime Minister Benjamin Netanyahu sought on Tuesday to convince European states to abandon a nuclear deal with Iran, saying that Tehran's threats to increase uranium enrichment capacity showed it still planned to destroy Israel.

He arrived in Paris for talks with French President Emmanuel Macron as part of a tour to persuade the European signatories—Britain, France and Germany—to follow Washington's lead in scrapping the accord that they signed with Tehran in 2015.

The three European states are currently scrambling to save the deal—under which Iran promised to curb its nuclear program in return for lifted sanctions—seeing it as the best chance to stop Tehran developing a nuclear bomb.




But Israel argues that Iran has duped the West and plans to use the break from sanctions to build up its financial reserves before returning to its nuclear plans.

"The day before yesterday Ayatollah Khamenei, the ruler of Iran, declared his intention to destroy the State of Israel. Yesterday he explained how he would do this with the unrestricted enrichment of uranium in order to produce an arsenal of nuclear bombs," Netanyahu said in a video statement on Twitter.

"We are not surprised. We will not allow Iran to obtain nuclear weapons," he said.

On Sunday, Khamenei's office tweeted what appeared to be an old quote from Iran's top leader that referred to Israel as a "malignant cancerous tumor" that needed to be removed.

A day later, he informed the UN nuclear watchdog of "tentative" plans to produce the feedstock for centrifuges, the machines that enrich uranium, the agency said on Tuesday after Iran said it was preparing to increase its enrichment capacity.

Khamenei said on Monday he had ordered preparations to increase uranium enrichment capacity if its nuclear deal fell apart after Trump announced his country's withdrawal.

"The Agency received a letter from Iran on 4 June informing the Agency that there is a tentative schedule to start production of UF6," a spokesman for the International Atomic Energy Agency (IAEA) said, referring to uranium hexafluoride, the feedstock for centrifuges.

The deal allows Iran to enrich uranium to 3.67 percent—far below the 90 percent of weapons grade—and caps its stock of enriched uranium hexafluoride at 300 kg.

On Monday, Netanyahu told German Chancellor Angela Merkel that Israel is developing ties with Arab states against Iran.

The European states have been trying to come up with a package to ring-fence trade with Iran against renewed US financial sanctions to dissuade Tehran from quitting the accord.

But they are struggling to convince firms to remain in Iran or create the financial instruments that could even enable them to do so.

"If Iran does not get the financial guarantees in oil and access to the financial system, then I don't see Iran sticking to the deal because the pressure from hardliners is only increasing," said a Western official.

"It is quite possible they will resume enrichment capacity and research and development of advanced centrifuges to show the Europeans and the world that they are serious."

French officials said Macron would tell Netanyahu that the threat to increase enrichment merely highlighted the need to keep the accord to stop Iran getting an atomic weapon.

French officials also said that Macron will also raise the issue of territorial disputes. European countries have voiced concerns over Israel's use of live fire during recent Palestinian protests along the Gaza border with Israel, including Macron who condemned Israel's "heinous acts."

Israel however, insists that the use of live fire is necessary to prevent terrorists from infiltrating into its territory.

Netanyahu and Macron will cap the day with a visit to an exhibit on Israeli innovations as part of events commemorating the 70th anniversary of Israel's founding.

This visit will inaugurate the French part of the joint "France-Israel Season," a series of cultural events that lasts 6 months. The initiative was planned in 2013 under Macron's predecessor.

Associated Press contributed to this report.