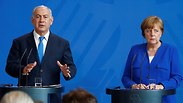 Netanyahu and Merkel in Berlin
Photo: Reuters
Netanyahu: Israel developing ties with Arab states against Iran
Prime Minister Netanyahu tells German Chancellor Merkel 'We have contacts with Arab states that are developing because of our common concern with Iran and its aggressive designs,' notes these ties could help peace process with Palestinians as well.
Prime Minister Benjamin Netanyahu told German Chancellor Angela Merkel on Monday that Israel is developing ties with Arab states against a common enemy—Iran.
"We have changes in the region that are taking place, and I think they're very promising. We have contacts with Arab states that are developing. They developed, obviously, because of our common concern with Iran and its aggressive designs. But I think they go well beyond that," Netanyahu said at a press conference with Merkel in Berlin.
"We have to band together to combat this Iranian aggression—the world's foremost sponsor of terror," he added.
צילום: רויטרס
The Israeli premier said the promising ties Israel is developing with Arab nations could help the peace process with the Palestinians as well.
"Many Arab states recognize that Israel can contribute technologically to the development of their societies, a better life for their peoples. I think ultimately this is the most promising route to have a peaceful development with the Palestinians as well. It may not be possible today, but I believe it would be possible tomorrow. And that's what we're all working for, a better tomorrow," he said.
Netanyahu is on a three-day trip to Europe to discuss "Iran and Iran" and attempt to convince the leaders of France, the UK and Germany of the need to intensify pressure on Tehran to thwart its nuclear ambitions.
After his meeting with Merkel, the prime minister will head to Paris to meet with French President Emmanuel Macron on Tuesday and then to London to meet with British Prime Minister Theresa May on Wednesday.
All three countries have vowed to try to salvage the hard-fought accord since President Donald Trump announced the US withdrawal from it last month.
The European powers argue it is the best way to head off a regional arms race and have vowed with Russia and China, the two other signatory countries, to keep it alive.
Netanyahu and Merkel meet in Berlin (צילום: לע"מ)
During her meeting with Netanyahu, Merkel was asked about Iranian supreme leader Ayatollah Ali Khamenei comments on Twitter Sunday, in which he said his country's "stance against Israel is the same stance we have always taken. #Israel is a malignant cancerous tumor in the West Asian region that has to be removed and eradicated: it is possible and it will happen."
Merkel said "we sharply condemn what the Iranian leadership said," adding that Germany and its partners had "repeatedly and with great clarity told Iran that we will stand up for Israel's right to security."
Netanyahu noted it was "amazing that in the 21st century, somebody talks about destroying Israel. It means destroying another six million plus Jews. This is what we face."
"Iran calls for our destruction, but it's also seeking nuclear weapons to carry out its genocidal design. We know this for a fact," he added.
Netanyahu asserted that "the greatest challenge the civilized world is facing is the danger from radical Islamic states that pursue the ways of terror and aspire to obtain nuclear weapons. The greatest danger is Iran."
Chancellor Merkel said she agreed with Netanyahu that Iran's activities in the Middle East are a concern, particularly for Israel's security.
"We agree that the question of Iran's regional influence is worrying, especially for Israel's security," Merkel said.
"We support Israel's right to security and have said this to Iran at all times," she went on to say.
Merkel defended the nuclear accord as ensuring "at least for a certain time, that Iran's activities are under control," noting that Tehran had been "on the brink of having a nuclear weapon" before the deal was signed.
But she acknowledged that a supplementary deal with Tehran covering its ballistic missile program as well as its interventions in countries such as Lebanon, Syria, Iraq and Yemen was needed.
"But we believe that this can be achieved with tough negotiations," she said.
Merkel insisted that the Europeans and Israel were "united by the goal that Iran must never get a nuclear weapon" but acknowledged deep differences with Netanyahu on "how we can best achieve this."
"We are not in agreement on all questions, but we are friends, we are partners," Merkel said of the visiting Israeli leader.
Netanyahu echoed Merkel's comments, saying, "We respect the policies of Chancellor Merkel. We have some disagreements, as you can see, on occasion, but they're not really on goal, they're more on the question of the method," he said.
"Basically the problem with this deal, as I saw it, was that it says to Iran: in exchange for not enriching uranium for a single bomb today, you can enrich unlimited amounts of uranium for a 100-200 bombs within 7-10 years. Today it's about 7 years," Netanyahu explained.
"I thought this was a very bad deal because it gave Iran the capacity to develop advanced centrifuges 40 times more effective in the intervening years. So they could have an unlimited enrichment capacity in a few years. That's not a good deal."
Netanyahu noted the agreement also doesn't address the question of ballistic missiles or Iranian aggression in the region.
PM warns of new refugee crisis sparked by Iran
The prime minister warned that Iran's activities across the Middle East threaten to drive another wave of refugees to Europe, charging that Tehran is using proceeds from eased sanctions to finance conflict.
Iran wants to "basically conduct a religious campaign in largely Sunni Syria but try to convert Sunnis," he said.
"This will inflame another religious war -- this time a religious war inside Syria and the consequences will be many, many more refugees and you know where exactly they will come," he said.
More than one million asylum seekers, with Syrians making up the biggest group, arrived in Germany since 2015, creating deep new political divisions in the country and shrinking Merkel's ruling majority in her fourth term.
The Israeli leader also discussed his speech to the US Congress before the signing of the deal.
"I suggested in my speech to the American Congress—if you boil it down to one thing, don't make the restrictions on Iran's nuclear program depend on a calendar. Make them depend in a change of Iranian behavior," he said.
"Since the deal was signed a few years ago, we've seen a change in Iranian behavior," Netanyahu continued. "We see that Iran is devouring one country after another: Yemen, Syria... I'm talking about military presence and enhanced shipments of lethal weapons, and they continue to espouse our (Israel's) destruction and the conquest of the Middle East. The deal also released a lot of cash for Iran, which helps them achieve these goals."
Netanyahu argued that now that the United States has withdrawn from the nuclear agreement, "the real question we have to confront today is what do we do about Iran's aggression, what do we do about Iran's remaining goals in its pursuit of nuclear weapons."
The prime minister said Israel had shared with the German government information it obtained from the secret Iranian nuclear archive. "It's important for the International Atomic Energy Agency (IAEA) investigates Iran based on this new information, a great amount of information Israel provided also to the IAEA," he said.
'We evacuated Gaza, Hamas burned our fields'
Netanyahu bemoaned the fact that "The Palestinians have consistently refused the idea of coexistence and even the idea of two states. Hamas certainly refuses to recognize two states. They openly say they want to destroy the Jewish state."
"The reason there is no peace, is because the Palestinians refuse to recognize a Jewish state in any borders. Once that hurdle is overcome, we shall have peace," he asserted.
"We left all of Gaza and they promptly turned it into an armed camp in which they fire thousands of rockets against us, they burn our fields and they try to storm into Israel and murder members of the Kibbutzim and Moshavim who are in there or kidnap our soldiers," the prime minister charged.
"The two million people of Gaza are governed by people who are openly committed to our destruction. The other 2 million in the West Bank have had ample opportunity, and they still have the opportunity, to negotiate a peace," he continued.
"They have walked away from such proposals time and time again … They rejected successive offers by Israeli governments and American governments," Netanyahu explained, listing such offers.
Palestinian President Mahmoud Abbas has "walked away" from offers to negotiate and "he still hasn't come back. Today he says he will not consider an American proposal because the Trump administration is pro-Israeli. Well, I didn't use the counter argument against an Obama proposal."
Reuters, AFP and The Associated Press contributed to this story.