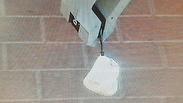 Police robot neutralizes combustible object attached to an incendiary kite
Kids find combustible object attached to flaming kite
Police sappers neutralize a burning mechanism attached to an incendiary kite found by children in Sdot Negev Regional Council; police instruct the public to treat any kites found as suspicious objects, stay away from them and contact emergency line as soon as possible.
Police sappers were called to neutralize a combustible object that was attached to an incendiary kite flown from Gaza. The kite was found by children in the Sdot Negev Regional Council on Monday. The combustible object was neutralized by a police robot.

The police said the combustible object was likely meant to cause casualties and called on the citizens of the south to exercise caution and to stay away from suspicious objects including kites.

"The public has to show responsibility and immediately call for the police sappers, without risking its own safty," the police reiterated following the aforementioned incident.

The police instructed the public to immediately evacuate from the scene and call the police emergency line in case that a suspicious object is found.

The police stressed that the neutralization of suspicious objects has to be executed by the police sappers only.

Incendiary kites launched from Gaza instigated fires in 11 different locations near Kibbutzim Be'eri and Kissufim in the Eshkol Regional Council.

Jewish National Fund's (JNF) firefighting crews and the area's security elements attempted to gain control of the fire.

The Kite terror has caused over the two past months an extensive environmental damage across Israel's communities of the south, culminating last Friday with 45 fires sparked across the Gaza border communities. All the fires were caused due to incendiary kites and Molotov cocktails attached to balloons flown from Gaza.

The southern communities' residents have been instructed to treat the incendiary kites as suspicious objects over the past few days.

"The kites flown from Gaza are causing extensive damage to the area (of the south). When (an incendiary) kite or any other unidentified object are detected, they have to be treated as suspicious objects," according to the instruction given to the Gaza border communities' residents.

"Any resident that happens to come across (an incendiary) kite is requested to immediacy distance himself and others from it, and notify the security elements as soon as possible."