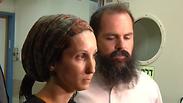 Shuva Malka's parents at the hospital
Photo: Shamir Elbaz
The stabbing of 18-year-old Shuva Malka in the northern city of Afula on Monday was a terror attack, the Shin Bet said Tuesday.

The security agency said in a statement that the suspect, Nur Shinawi of Jenin, had confessed to this involvement in the attack.

The Israel Police have yet to define the incident as a terror attack.

Earlier Tuesday, Malka's parents demanded that the incident be defined as an attack by the police. "Any other reference to downplays and belittles the incident," the girl's mother said at the HaEmek Medical Center in Afula, where her daughter is hospitalized in serious but stable condition in the intensive care unit.

Police officials said the motive was unclear, but banned the suspect from meeting with a lawyer, a move which can only be implemented in the event of security-related offenses.

The police were expected to ask the Nazareth Magistrates' Court to extend the suspect's remand on Tuesday. Due to his medical condition, after he was shot during his arrest, the court is expected to discuss the request in his absence.