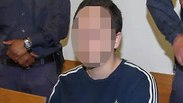 The Ashkelon hacker in court, Thursday
Photo: Yariv Katz
Israeli hacker behind hoax bomb threats convicted in court
Ashkelon resident convicted of thousands of counts of extortion and making false statements after terrorizing airlines and institutions in the United States, Australia, New Zealand and Israel for several months; 'It was an act of boredom,' he tells investigators. 'I like to see people running around in panic.'
The Tel Aviv District Court on Thursday convicted an Israeli hacker, who had terrorized institutions in the United States and airlines from his home in the southern city of Ashkelon, of thousands of counts of extortion and making false statements.

The hacker was on trial on trial for making hoax bomb threats against Jewish community centers in the United States, Australia, New Zealand and Israel for several months.

He was also suspected of making false bomb threats against several airlines, forcing several emergency landings from 2015 up until 2017, and even extorting several political figures for monetary gain.

At this stage, the hacker has been convicted of offenses he committed as an adult and has yet to be convicted of the offenses he committed as a minor. A decision on those offenses will be made after receiving an expert opinion.

Judge Zvi Gurfinkel delivered the verdict behind closed doors, as the hacker was still a minor when he committed the offenses and his name has not been cleared for publication.

"It was an act of boredom," the hacker said during his investigation. In another interrogation, he said: "I like to see people running around in panic."

The hacker is represented by attorneys Yoram Sheftel and Meir Ziv.

The hacker's father said in court Thursday, "When the FBI checks who his customers were, they will be surprised. The fact that they determined that he was fit to stand trial was a lie and a conspiracy against a helpless person. We have been raising this child for 18 years. He is incapable of telling good from bad. His discretion is horrible. There is a conspiracy here."

Attorney Meir Ziv said, "We can't ignore the fact that this whole trial is affected by the American pressure. They are expecting a conviction and the maximum sentence or an extradition to the US. The fact that he was tried in Israel prevented the extradition to the US. The sweeping disqualification of the defense's opinion and the acceptance of all the prosecution's work conveys something here. The American cloud is hovering above us and has had quite an influence."

Judge Gurfinkel noted Thursday, "The defendant changed his version according to his needs. He is well aware of the consequences of his actions. He understands what it means and keeps changing his version according to the convenient defense line."

Attorney Yoni Hadad from the cyber department of Israel's State Attorney's Office, said: "The defendant carried out thousands of bomb threat calls to airlines, airports, police stations, schools and different institutions. He threatened that explosive devices had been planted in airplanes and schools and in other public places. As a result of these threats, planes were forced to land in different airports, schools were evacuated and emergency forces were alerted. He essentially created panic, terrorized many people and disrupted their lives."

The hacker was indicted in April 2017, at the age of 18, for making thousands of threatening phone calls and bomb threats to various institutions and venues across the world.

The indictment in Israel came on the heels of a similar US Federal indictment filed in Florida and Georgia against the dual Israeli-American national for hate crimes.

The indictment detailed 2,000 incidents the suspect was allegedly involved in, including false bomb threats to Jewish schools and community centers, planes, airports and sporting events.

For example, one of the charges references a bomb threat made against an El Al flight on its way to Israel. As a result of the mid-air scare, French and Swiss fighter jets were scrambled to escort the passenger plane to a safe landing.

In another incident, the suspect threatened an airport in Canada causing a passenger plane to be diverted to another airport and evacuated according to emergency protocols, which led to six people being injured.

The suspect was also charged with calling in a threat against the airplane belonging to the Boston Celtics, who were travelling for a game.

In a more brazen act, it was revealed that the suspect attempted to extort a Republican member of the US Senate before sending him drugs in the mail and threatening his children.

Other offenses attributed to the suspect included the publication of false information to cause fear and panic, computer crimes, money laundering offenses, weapons possession, assaulting a police officer, mediating drug trafficking, providing means to commit a crime and possessing and disseminating pedophilic materials.