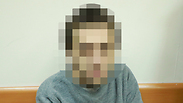 The suspect
Photo: Dana Kopel
An 18-year-old man from Ashkelon was indicted Monday for making thousands of threatening phone calls and bomb threats to various institutions and venues across the world.

The indictment in Israel comes on the heels of a similar US Federal indictment filed in Florida and Georgia against the dual Israeli-American national.

The indictment details 2,000 incidents the suspect was allegedly involved in, including false bomb threats to Jewish schools and community centers, planes, airports and sporting events.

For example, one of the charges references a bomb threat made against an El Al flight on its way to Israel. As a result of the mid-air scare, French and Swiss fighter jets were scrambled to escort the passenger plane to a safe landing.

In another incident, the suspect threatened an airport in Canada causing a passenger plane to be diverted to another airport and evacuated according to emergency protocols, which led to six people being injured.

The suspect is also being charged with calling in a threat against the airplane belonging to the Boston Celtics, who were travelling for a game. SF Jae Crowder tweeted after the event:
BOMB THREAT SCARE EARLIER.!! NEVER BEEN APART OF SUCH THING. BUT GLAD WE ARE OK AND MADE IT TO OKLAHOMA SAFELY.!!

— JAE CROWDER (@CJC9BOSS) December 11, 2016
In a more brazen act, it was revealed Sunday that the suspect attempted to extort a Republican member of the US Senate before sending him drugs in the mail and threatening his children.
Other offenses attributed to the suspect include the publication of false information to cause fear and panic, computer crimes, money laundering offenses, weapons possession, assaulting a police officer, mediating drug trafficking, providing means to commit a crime and possessing and disseminating pedophilic materials.
The suspect's attorney issued a statement on the indictment, saying, "An indictment was issued in Juvenile Court, in accordance with claims by the prosecution that a portion of the crimes were committed (when the suspect) was a minor. This is not a classic criminal who wants to cause havoc, but rather, a sick offender."
According to Yoni Hadad, an attorney in the cyber department of Israel's State Attorney's Office, "The indictment details more than 2,000 threatening conversations to different countries, airline companies, schools and hospitals all using sophisticated means to conceal his identity. Additionally, he was active on the Dark Net.
"As far as the State Prosecutor is concerned, claims regarding the suspect's personal and medical situation do not protect him from incarceration until the end of proceedings," Hadad said.
The US Department of Justice and the Israeli Ministry of Justice are negotiating for a possible extradition, but State Attorney Shai Nitzan has temporarily decided against extradition due to the majority of the defendant's crimes being committed in Israel.
(Translated and edited by Fred Goldberg)