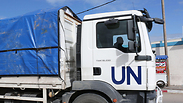 UNRWA spokesman: 'Gazans have nothing to lose'
Adnan Abu Hasna, who works for the UN Palestinian refugee agency in the strip, tells Ynet the coastal enclave 'is a big prison, there are no dreams, there is no stability'; he adds US aid cuts is making it difficult to provide Gazans with basic food products.
A United Nations Palestinian aid agency official said Saturday that the underlying problem facing the people of the Gaza Strip is that "they have nothing to lose," as the population struggles to contend with a shattered economy that has become the focus of international attention in recent months.

"Hamas, Palestinian officials, and regular people in the street do not want wars. The damage from the 2014 war (Operation Protective Edge) has still not been repaired, but the central problem here in Gaza is that people have nothing to lose," said United Nations Relief and Works Agency (UNRWA) media advisor Adnan Abu Hasna in an interview with Ynet.

"There is no tomorrow in Gaza, it's a big prison, there are no dreams, there is no stability. Two million people, 50 percent unemployment, the private sector doesn't work," he said, cataloging the major problems that have beset the strip.




The agency, the oldest and largest UN relief program in the Middle East, provides health care, education and social services to millions of Palestinians in the West Bank, the Gaza Strip, Jordan, Syria and Lebanon.

Israel complains that the organization grants Palestinian refugees special status by counting descendants of Palestinians who were either forced to leave or fled during the 1948 War of Independence.

By using this unique categorization, which no other refugee in the world is afforded, Israel says that UNRWA is responsible for exacerbating, rather than solving, the problem.

"I am in Gaza City now, we hear the attacks all the time, we hear explosions here and there but far from Gaza City," he added, as Hamas-launched rocket fire and Israeli airstrikes continued throughout the day in the latest wave of unrest on the volatile border.

"There were no attacks inside the city, but around the edges, as well as in the north and the east. But we hear the attacks, the drones and the F-16s. The people are talking about an escalation and these kinds of things," the UNRWA spokesman continued.

"There is fear of an escalation and it reminds them exactly of 2014. There's a bad memory of what happened at that time," said Hasna, who argued that the hefty financial cuts on UNRWA imposed by US President Donald Trump have already taken their toll.

"Every year we would get $360 million. This year we got only $60 million. A large portion of this money is spent on the food we supply a million people in Gaza's population here, every three months. I'm talking about basic food: olive oil, bread, things like that," he said.

"We have no money to continue to supply food to these people here, and we don't know what is going to happen," the concerned official went on. "I think that UNRWA's situation is not the same as it was six months ago. The situation has deteriorated. We are the main body in Gaza that supplies aid, food, medicine and education, practically the only one."

Asked whether students in Gaza were currently on vacation from schools, Hasna said, "Yes, but we don't know yet whether school will open in the coming year. We will decide on that in a month. We're talking about 300,000 students who need to go to school."

Israel has in the past blasted the organization for failing to ensure that its facilities are not exploited by Hamas for terror purposes.

Last October, it was reported that UNRWA discovered a Hamas attack tunnel underneath one of its schools in Gaza.